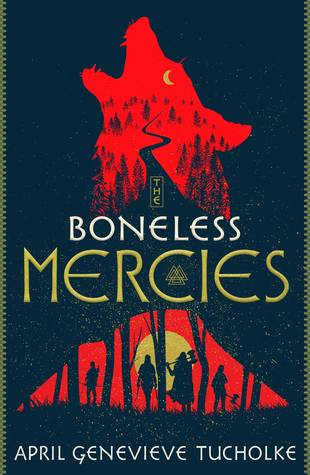 The Boneless Mercies
By April Genevieve Tucholke Source
Library
Published by
Farrar Straus Giroux
on October 2, 2018
Rating:

A dark standalone YA fantasy about a band of mercenary girls in search of female glory.

Frey, Ovie, Juniper, and Runa are the Boneless Mercies—girls hired to kill quickly, quietly, and mercifully. But Frey is weary of the death trade and, having been raised on the heroic sagas of her people, dreams of a bigger life.

When she hears of an unstoppable monster ravaging a nearby town, Frey decides this is the Mercies' one chance out. The fame and fortune of bringing down such a beast would ensure a new future for all the Mercies. In fact, her actions may change the story arc of women everywhere.
I had been so excited to read this book from the time I heard about it. It sounded so good! And I love the cover.
But man, it took me a long time to get into it. I feel like I should have loved this book. It had mercenary girls! Magic! Monsters! Battles! And yet. Maybe it was my cold getting in the way, but it just took me so long to get into this. The first half felt so slow, and I felt like I didn't get to know enough about the characters to get invested.
The last half of the book picked up for me, and I generally enjoyed this one, but I was kind of disappointed that I couldn't love it more. It felt like it had all of the elements of a fantastic, exciting story but the world and characters never felt developed fully for me, and it moved so slowly. I wanted the pieces to add up to a better whole.