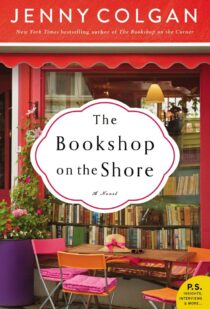 The Bookshop On The Shore
By Jenny Colgan Series:
Kirrinfief #2
Source
Purchased
Published by
William Morrow Paperbacks
on June 13, 2019
Rating:

A grand baronial house on Loch Ness, a quirky small-town bookseller, and a single mom looking for a fresh start all come together in this witty and warm-hearted novel by New York Times bestselling author Jenny Colgan.

Desperate to escape from London, single mother Lottie wants to build a new life for herself and her son Raffie. She can barely afford the crammed studio apartment on a busy street where honking horns and shouting football fans keep them awake all night. If she doesn't find a way out soon, Lottie knows it's just a matter of time before she has a complete meltdown. On a whim, she answers an ad for a nanny job in the Scottish Highlands, which is about as far away from the urban crush of London as possible. It sounds heavenly!

The job description asks for someone capable of caring for two…well, the advertisement says "gifted children"; the reality is more like "feral wolverines." The children's widowed father is a wreck, and the kids run wild in a huge tumbledown castle on the heather-strewn banks of Loch Ness. Still, the peaceful, picturesque location is everything London is not—and Lottie rises to the challenges of the job.

With the help of Nina, the friendly local bookseller, Lottie begins to put down roots in the community. Are books, fresh air, and kindness enough to heal this broken family—and her own…?
This was a pleasant read that I overall liked. It was an easy read and I loved the setting. The story felt like it was more about nannying than about the bookselling, and I wished there had been more about the books, but I loved seeing Nina again.
I didn't feel invested in the romance between Zoe and the children's father, and I didn't care for the reveal that View Spoiler » the children's mother was an addict in a care facility « Hide Spoiler. But I loved her relationship with her son Hari, and enjoyed seeing them settle into life in the Scottish Highlands.
I definitely want to read book three in the series and spend some more time in the town of Kirrinfeif!