The Edge of Falling
By Rebecca Serle
Source: ARC received from publisher, Simon & Schuster, via Edelweiss
Publication Date: March 18, 2014
My Rating: 4 / 5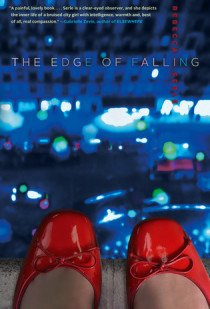 From the Goodreads summary:
Growing up in privileged, Manhattan social circles, Caggie's life should be perfect, and it almost was until the day that her younger sister drowned when Caggie was supposed to be watching her. Stricken by grief, Caggie pulls away from her friends and family, only to have everyone misinterpret a crucial moment when she supposedly saves a fellow classmate from suicide. Now she's famous for something she didn't do and everyone lauds her as a hero. But inside she still blames herself for the death of her sister and continues to pull away from everything in her life, best friend and perfect boyfriend included.

Then Caggie meets Astor, the new boy at school, about whom rumours are swirling and known facts are few. In Astor she finds someone who just might understand her pain, because he has an inner pain of his own. But the more Caggie pulls away from her former life to be with Astor, the more she realises that his pain might be darker, and deeper, than anything she's ever felt. His pain might be enough to end his life…and Caggie's as well.
At the outset, I loved the setting of this book: rich New York teens attending fancy schools and wearing expensive clothing. It gave me a bit of a Gossip Girl vibe (at least, what I remembered from the first season of the TV show!).
This story was an absorbing look at Caggie's grief, and how tries to move on by trying to forget or block out memories and avoiding actually dealing with her grief. In addition, the way that Caggie's friends and family behaved, both out of their own grief and their efforts to help Caggie, was interesting. Her mother and father were distracted and distant, and her older brother was away at school, leaving Caggie on her own much of the time. Meanwhile her ex-boyfriend Trevor, who broke up with her after her sister's death, was confusingly friendly, and her best friend Claire tried to get her to move on from Trevor.
Caggie had so many secrets and it seemed that she felt trapped and couldn't see a way out. She lost in interest in things that used to be important to her, like the school's literary journal. These things that had meant so much no longer mattered to her. This was all compounded by the situation on the roof with Kristen and the secret the two girls shared, and I really enjoyed the way the details of the story were slowly drawn out.
I really liked the secondary characters, notably Trevor and Claire. As for Astor, who Caggie meets while out one night with Claire, I never really liked him – I could tell right away that he was trouble – but I can see how Caggie thought they might be good together or could help each other. They had each lost a loved one, and perhaps they could understand each other's grief in a way no one else could.
As a sidenote, there are Holden Caulfield references sprinkled throughout the book, and I think he was Caggie's grandfather but I'm not totally sure about that. It sort of went over my head, but it was an interesting minor aspect of the story.
This was a really good read. I thought the pacing was just right, and the writing was very good. The story was intriguing and Caggie was a sympathetic character in her grief, confusion, and struggle to choose life. Although a bit dark, this is a recommended read. I'd like to read Serle's other novel, When You Were Mine.
Related Posts