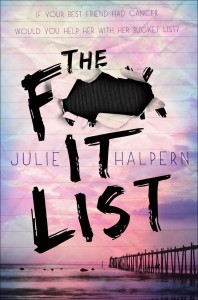 The F-It List
By Julie Halpern Source
Received from the publisher via Edelweiss
Published by
Feiwel and Friends
on November 12, 2013
Received from the publisher via Edelweiss in exchange for an honest review. This does not affect my opinion of the book or the content of my review.
Rating:

Cover image and summary from Goodreads:

With her signature heart and humor, Julie Halpern explores a strained friendship strengthened by one girl's battle with cancer.

Alex's father recently died in a car accident. And on the night of his funeral, her best friend Becca slept with Alex's boyfriend. So things aren't great. Alex steps away from her friendship with Becca and focuses on her family.

But when Alex finally decides to forgive Becca, she finds out something that will change her world again—Becca has cancer.

So what do you do when your best friend has cancer? You help her shave her head. And then you take her bucket list and try to fulfill it on her behalf. Because if that's all you can do to help your ailing friend—you do it.
I was interested in reading this book because I was looking for a contemporary read and this cover caught my eye.
Alex was having a tough go of things when the book opens. Her father was killed in a car accident, and she learned that the night of the funeral, her best friend Becca had sex with Alex's boyfriend. So Alex distanced herself from Becca, but with school starting up again, and the inevitability of facing her, Alex decided to forgive Becca. Only Becca didn't show up on the first day of school. Alex heard through an acquaintance that Becca's sick. It turned out that Becca had cancer.
Much of what I liked about this book had to do with Becca and Alex's friendship, and how the focus of the story was on that friendship. Yes, Alex had something going on with cute, mysterious Leo, but I really felt like the story's central element was the friendship between the two girls. Sure, Becca slept with Alex's then-boyfriend, but when they talked about it I felt that Alex's forgiveness was genuine. I also appreciated reading Alex's thoughts on life and 'what does it all mean', which I think is completely normal when faced with the death of a parent or a best friend's potentially fatal illness. There was some heavy stuff in here, and it was great food for thought.
When Becca told Alex about her bucket list, which they dubbed the 'F-It List', she asked Alex to help her complete the list by doing some of the items herself. This was an interesting idea, initially, but it sort of felt as though the list and its items fell away later in the book. I liked the idea though and I have to admit that it got me thinking briefly about things I would put on my own bucket list.
Alex had a lot of emotional walls up, and she wanted to be strong for Becca through her illness and chemotherapy. Her relationship with Leo complicated things because he was pretty straight-forward about his feelings for her, but Alex felt guilty for being happy while Becca was going through something so terrible. I knew things would come to a head and Alex would have to let her walls down and be vulnerable, and I really liked reading about her journey to get to that point.
I found Alex pretty likeable: she was funny – snarky and sarcastic – and smart, and I liked that she was into horror movies and Joss Whedon's works. She felt different from a lot of other contemporary MCs I've read about. What held me back from falling in love with this book was the fact that I didn't feel that I got to know the other characters very well. I wish I had learned more about Becca, and Leo. What I did feel that I knew of them was through their relationship to Alex, rather than as fully-fledged characters. I wanted more.
Overall, I enjoyed reading this book. It was funny, touching, and although it left me wanting more, I think it's one you should check out if you're a contemporary YA fan.