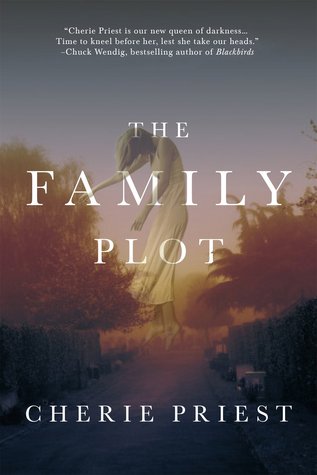 The Family Plot
By Cherie Priest Source
Purchased
Published by
Tor Books
on September 20, 2016
Rating:

Music City Salvage is a family operation, owned and operated by Chuck Dutton: master stripper of doomed historic properties, and expert seller of all things old and crusty. But business is lean and times are tight, so he's thrilled when the aged and esteemed Augusta Withrow appears in his office, bearing an offer he really ought to refuse. She has a massive family estate to unload - lock, stock, and barrel. For a check and a handshake, it's all his.

It's a big check. It's a firm handshake. And it's enough of a gold mine that he assigns his daughter Dahlia to personally oversee the project.

Dahlia preps a couple of trucks, takes a small crew, and they caravan down to Chattanooga, Tennessee, where the ancient Withrow house is waiting - and so is a barn, a carriage house, and a small, overgrown cemetery that Augusta Withrow left out of the paperwork.

Augusta Withrow left out a lot of things.

The property is in unusually great shape for a condemned building. It's empty, but it isn't abandoned. Something in the Withrow mansion is angry and lost. This is its last chance to raise hell before the house is gone forever, and there's still plenty of room in the strange little family plot.

New from Cherie Priest, a modern master of supernatural fiction, The Family Plot is a haunted house story for the ages - atmospheric, scary, and strange, with a modern gothic sensibility that every bit as fresh as it is frightening.
I was really intrigued by this premise. I love reading ghost stories, particularly haunted house stories, and reading about a salvage company working on a house which may be haunted made me eager to pick this one up!
After reading, I've got mixed feelings about this book. I loved the setting and the premise, but the characters and pacing weren't quite right for me. I didn't feel like I knew the characters by the end – certainly not enough to be all that worried about them – and this just wasn't all that creepy or scary to me. I guess I was expecting more.
I liked the ending, and it bumped up my opinion of the book. So I'm mixed on this one. It was generally enjoyable, even if I didn't totally love it.