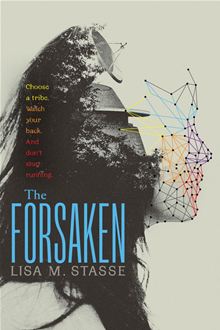 The Forsaken
By Lisa M. Stasse Series:
The Forsaken #1
Source
Purchased
Published by
Simon & Schuster Books for Young Readers
on July 10, 2012
Rating:

As an obedient orphan of the U.N.A. (the super-country that was once Mexico, the U.S., and Canada), Alenna learned at an early age to blend in and be quiet - having your parents taken by the police will do that to a girl. But Alenna can't help but stand out when she fails a test that all sixteen-year-olds have to take: The test says she has a high capacity for brutal violence, and so she is sent to The Wheel, an island where all would-be criminals end up.

The life expectancy of prisoners on The Wheel is just two years, but with dirty, violent, and chaotic conditions, the time seems a lot longer as Alenna is forced to deal with civil wars for land ownership and machines that snatch kids out of their makeshift homes. Desperate, she and the other prisoners concoct a potentially fatal plan to flee the island. Survival may seem impossible, but Alenna is determined to achieve it anyway.
This book has been on my radar for a while. I can't remember where I first heard about it, but from the description, it seemed right up my alley.
This is the first book in a new trilogy, and seems to follow a fairly standard progression. The reader is introduced to Alenna, an orphan, and her world. She lives in the UNA, made up of the former countries of USA, Canada, and Mexico. The country is run by Minister Harka, who has cracked down on individual freedoms in the name of order.
Alenna goes for a test, standard for all 16 year olds, which will determine those who are likely to be criminals and separate them from the rest of the country. Those who fail the test are sent to an island and left to fend for themselves.
Much to her surprise, quiet, obedient Alenna goes for her test and suddenly wakes up on the wheel. She is instantly plunged into a world of chaos and danger, caught between two separate groups warring on the island. One group is led by a mysterious figure known as the Monk and its members, called drones, act like they're in a cult, and is the larger and more violent of the groups. The other, the one Alenna falls in with, is smaller and seems less weird.
The story moves along fairly quickly, at least at first, as we don't spend much time with Alenna in the UNA. There is some quick exposition at the beginning, outlining Alenna's world, but I wish I had gotten to read more about that, see more of Alenna in that world, before things moved along to the wheel.
When Alenna wakes up on the island, she isn't alone. A boy named David is there, and when they are suddenly attacked by drones, he is captured while trying to help Alenna escape. David is an interesting character because he reappears throughout the story, giving Alenna information and seeming to want to escape from the Monk and the drones, but isn't trusted by the people in Alenna's group when she tries to help him. I was never quite sure of David's motives – could Alenna trust him, or was he a spy? – and I liked that. A lot of other characters behaved predictably, but I liked David.
There is, of course, a love interest: a boy named Liam. It seemed to me to be a case of insta-love (although the author arguably tried to get around that in the end of the book, sort of), and there was a slight triangle between Liam, Alenna, and Gadya (Alenna's friend and Liam's ex-girlfriend). I wasn't all that invested in this relationship or triangle, to be honest, and was bored whenever the story turned to Liam.
I did like the action in the book, and there were some twists (one that caught me by surprise, and one that I saw coming a mile away). I liked the direction the story went in the last half, when Alenna and some members of her group journey into an area known as the grey zone, seeking a way off the island. However, some of the characters seemed flat, and if you've read a few dystopian YA novels this may not seem all that fresh or original.
I really wish more had been explained about the UNA and the story's world. A lot of the explanations given near the end of the book (which I will not go into here to avoid spoilers) didn't make much sense to me as I read them. I also wished that characters had questioned these explanations a little, or pushed for more information.
However, I love the cover, and while there wasn't much here that I haven't come across in other books, it was a fun, quick read. I'll likely read the sequel, whenever that comes out. If you're tired of more of the same and looking for something new, this may not be the book for you. If, like me, you will try most books out there billing themselves as dystopian YA, you'll probably want to add this one to your reading list.