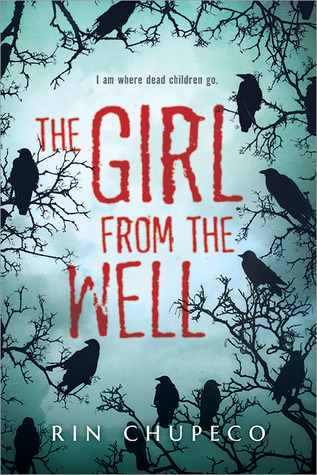 The Girl from the Well
By Rin Chupeco Source
Received from the publisher
Published by
Sourcebooks Fire
on August 5, 2014
Received from the publisher in exchange for an honest review. This does not affect my opinion of the book or the content of my review.
Rating:

Cover image and summary from Goodreads:

You may think me biased, being murdered myself. But my state of being has nothing to do with the curiosity toward my own species, if we can be called such. We do not go gentle, as your poet encourages, into that good night.

A dead girl walks the streets.

She hunts murderers. Child killers, much like the man who threw her body down a well three hundred years ago.

And when a strange boy bearing stranger tattoos moves into the neighborhood so, she discovers, does something else. And soon both will be drawn into the world of eerie doll rituals and dark Shinto exorcisms that will take them from American suburbia to the remote valleys and shrines of Aomori, Japan.

Because the boy has a terrifying secret - one that would just kill to get out.

The Girl from the Well is A YA Horror novel pitched as "Dexter" meets "The Grudge", based on a well-loved Japanese ghost story.
I was drawn to this book because it seemed like it would be a bit of a scary read, with an interesting narrator. Unfortunately, The Girl from the Well didn't live up to my expectations.
The story began promisingly enough, with a gruesome scene demonstrating the narrator Okiku's penchant for murdering those who have murdered children, and in doing so, helps the spirits of those children move on. Okiku is soon drawn to Tark, a young boy, and his cousin, Callie. Tark has some mysterious tattoos, a troubled past, and both he and Callie are able to see Okiku. She's intrigued, and when it seems that there's a darker, more dangerous spirit attached to Tark, Okiku becomes protective of him and Callie.
While the story was interesting, it never really rose to the level that I thought it would as a horror story. It was gruesome at times, with some great scenes showing Okiku doing what she does to killers, but I saw it as more of a thriller or mystery than a horror story. I never feared for Callie or Tark's lives, I never felt frightened or unsettled, and I was confident that Okiku would protect Tark and Callie and they wouldn't come to any harm.
Okiku had a super interesting back story, but I wish it had been explored in more detail, or that it had at least come earlier in the story. Other than Okiku, I found the main characters flat and uninteresting. I also thought that Tark's father was clumsily taken out of the story or dropped back in to conveniently move the plot along. He seemed so distant, considering the strange things that happened to Tark.
There were also occasional moments where the language or writing seemed slightly off, which was jarring. However, since I read an ARC, I figure that sort of thing will be corrected in the final copy.
I suppose I could have overlooked all of that if I had been really interested in the story and invested in the outcome, but unfortunately, I felt bored as I read on. I really struggled to focus and care about what happened next.
I did like reading about the characters on their trip to Japan. I found the historical and cultural information that they learned to be quite interesting, but there wasn't enough of that to make up for the aspects of the book that simply didn't work for me.
Sadly,  The Girl from the Well was not the book for me. I've seen some great reviews, though, and just because I didn't enjoy it doesn't mean you won't.