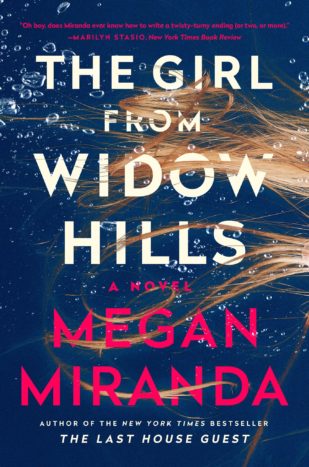 The Girl From Widow Hills
By Megan Miranda Source
Received from the publisher
Published by
Simon & Schuster
on June 23, 2020
Received from the publisher in exchange for an honest review. This does not affect my opinion of the book or the content of my review.
Rating:

Everyone knows the story of "the girl from Widow Hills."

Arden Maynor was just a child when she was swept away while sleepwalking during a terrifying rainstorm and went missing for days. Strangers and friends, neighbors and rescue workers, set up search parties and held vigils, praying for her safe return. Against all odds, she was found, alive, clinging to a storm drain. The girl from Widow Hills was a living miracle. Arden's mother wrote a book. Fame followed. Fans and fan letters, creeps, and stalkers. And every year, the anniversary. It all became too much. As soon as she was old enough, Arden changed her name and disappeared from the public eye.

Now a young woman living hundreds of miles away, Arden goes by Olivia. She's managed to stay off the radar for the last few years. But with the twentieth anniversary of her rescue approaching, the media will inevitably renew its interest in Arden. Where is she now? Soon Olivia feels like she's being watched and begins sleepwalking again, like she did long ago, even waking outside her home. Until late one night she jolts awake in her yard. At her feet is the corpse of a man she knows—from her previous life, as Arden Maynor.

And now, the girl from Widow Hills is about to become the center of the story, once again, in this propulsive page-turner from suspense master Megan Miranda.
I am a fan of Megan Miranda's thrillers. I usually enjoy the mystery and the way she weaves in the setting with the characters' stories. So I was really excited to receive an e-ARC of her newest, The Girl From Widow Hills.
This is another compelling, twisty read from Megan Miranda that I enjoyed! Olivia grappling with her past and the mystery of the dead person in her yard (who was it? Who was the killer?) was fun to untangle.
There are some interview transcripts and excerpts interspersed between the chapters, which are perhaps intended to shed some light on Olivia's/Arden's past, but I found them not very informative or interesting, and might have preferred the story without them.
Overall, though, this was an entertaining mystery that kept me guessing, uncertain who could be trusted.