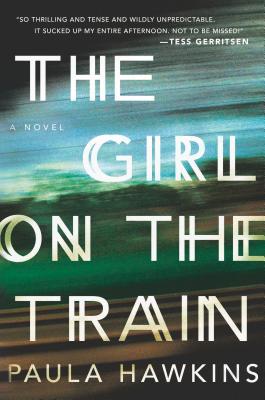 The Girl on the Train
By Paula Hawkins Source
Purchased
Published by
Riverhead
on January 13, 2015
Rating:

Cover image and summary from Goodreads:

A debut psychological thriller that will forever change the way you look at other people's lives.

Rachel takes the same commuter train every morning. Every day she rattles down the track, flashes past a stretch of cozy suburban homes, and stops at the signal that allows her to daily watch the same couple breakfasting on their deck. She's even started to feel like she knows them. "Jess and Jason," she calls them. Their life—as she sees it—is perfect. Not unlike the life she recently lost.

And then she sees something shocking. It's only a minute until the train moves on, but it's enough. Now everything's changed. Unable to keep it to herself, Rachel offers what she knows to the police, and becomes inextricably entwined in what happens next, as well as in the lives of everyone involved. Has she done more harm than good?

A compulsively readable, emotionally immersive, Hitchcockian thriller that draws comparisons to Gone Girl, The Silent Wife, or Before I Go to Sleep, this is an electrifying debut embraced by readers across markets and categories.
VERY MINOR SPOILERS
This book had so much buzz and I ended up preordering a copy for myself and for my mom. She read the book in a single sitting, which I took as a really good sign! Then I ended up reading the whole book in one sitting! Once I started, I knew I couldn't put it down until I'd read the entire thing.
Part of the buzz I kept hearing about The Girl on the Train was calling it the next Gone Girl. Now, Gone Girl is one of my favourite books, and I am a total sucker for any book that gets compared to it. Even though I feel like those kinds of comparisons are more of a marketing tool, and are not very accurate, I still find myself drawn in. Anyway, all that is to say that this is not, to me, 'the next Gone Girl', but I can perhaps see why it's being marketed as such.
There are three different narrators in this book, and I enjoyed how different their voices were from each other. They definitely felt like distinct voices, which isn't always the case for me when reading a book with multiple narrators.
Rachel, who I think of as the 'main' narrator, was a really interesting character, and due to her alcohol-induced blackouts, not the most reliable narrator. I LOVE the use of an unreliable narrator, because it keeps me on my toes, paying more attention to the story and details than I otherwise might. At the same time, since I knew going in that this book employed the unreliable narrator, I wonder if maybe I was paying more attention because I was looking for things to make me distrust or not believe Rachel.
Rachel was someone I kind of pitied at the beginning of the story. Her life was a mess, and she kept doing things that I wanted to yell at her not to do. But over the course of the story, as Megan's disappearance stretched on, it seemed that Rachel found some sort of purpose that made her want to stay sober, and I liked her so much by the end of the book. Details of Rachel's life – and Megan's – are revealed over the course of the book, and by the end, I felt like I knew them and understood why they made some of the choices they did.
I loved the way the mystery unraveled, because basically all of my suspicions were addressed throughout the book in some way. And even though I 'solved' the mystery early on, I wound up second-guessing myself right up until the end. But figuring out 'whodunnit' doesn't mean the mystery wasn't well done! This book was tense, suspenseful, twisty, and really satisfying.
Definitely recommended!