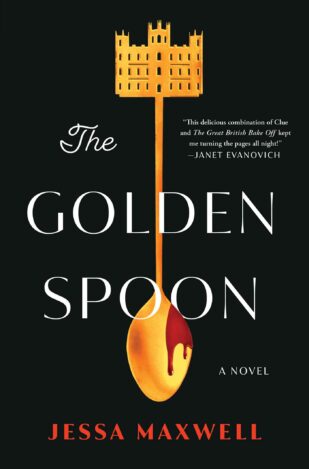 The Golden Spoon
By Jessa Maxwell Source
Received from the publisher
Published by
Atria Books
on March 7, 2023
Received from the publisher in exchange for an honest review. This does not affect my opinion of the book or the content of my review.
Rating:

Production for the tenth season of Bake Week is ready to begin at the gothic estate of host and celebrity chef Betsy Martin, and everything seems perfect. The tent is up, the top-tier ingredients are aligned, and the crew has their cameras at the ready.

The six contestants work to prove their culinary talents over the course of five days, while Betsy is less than thrilled to share the spotlight with a new cohost—the brash and unpredictable Archie Morris. But as the baking competition commences, things begin to go awry. At first, it's merely sabotage—sugar replaced with salt, a burner turned to high—but when a body is discovered, everyone is a suspect.

A deliciously suspenseful thriller for murder mystery buffs and avid bakers alike, The Golden Spoon will keep you guessing until the very last page.
This setting and premise really appealed to me. I loved the idea of the baking show as the background for a murder mystery!
Cozy mysteries are not my usual kind of mystery read, so this was a bit outside of my reading comfort zone. The mystery of who is dead, and who the killer is, kind of takes a backseat until the end of the book, as the reader gets to know the various contestants and hosts. For me, there were a lot of characters to keep track of at first, because I didn't feel like the story stayed with any one character for long enough to get to know them.
I loved the baking challenges. They were fun to read about and the TV show setting was entertaining. If you're a cozy mystery reader, this is probably going to be something you will really enjoy. I think I was anticipating something a bit darker when I read a review copy last year, especially based on that lovely cover. The cover is dark and gives off a more menacing vibe that I guess I associate with darker stories than cozy mysteries.
It was a fun read, but the mystery was not as prominent as I'd hoped, and the characters were a bit too flat for me to feel more invested.