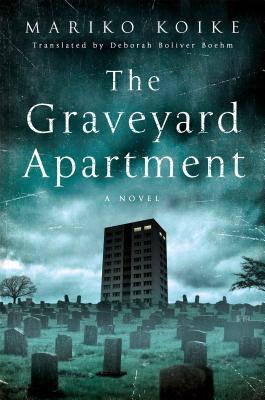 The Graveyard Apartment
By Mariko Koike, Deborah Boliver Boehm (Translator) Source
Purchased
Published by
Thomas Dunne Books
on October 11, 2016
Rating:

A terrifying tale of a young family who move into an apartment building next to a graveyard and the horrors that are unleashed upon them.

One of the most popular writers working in Japan today, Mariko Koike is a recognized master of detective fiction and horror writing. Known in particular for her hybrid works that blend these styles with elements of romance, The Graveyard Apartment is arguably Koike's masterpiece. Originally published in Japan in 1986, Koike's novel is the suspenseful tale of a young family that believes it has found the perfect home to grow in to, only to realize that the apartment's idyllic setting harbors the specter of evil and that longer they stay, the more trapped they become.

This tale of a young married couple who are harboring a dark secret is packed with dread and terror, as they and their daughter move into a brand new apartment building built next to a graveyard. As strange and terrifying occurrences begin to pile up, people in the building begin to move out one by one, until the young family is left alone with someone... or something... lurking in the basement. The psychological horror builds moment after moment, scene after scene, culminating with a conclusion that will make you think twice before ever going into a basement again.
This is another book that I purchased with a birthday gift card. I forget where I first heard about it, but it had been on my TBR for some time. I enjoy reading horror stories, especially ones about haunted buildings! And I also like to read translated works, particularly scary stories.
I really liked the premise, and I enjoyed that this book took its time before anything outright spooky happened. I appreciated reading about the characters trying to explain away things that were strange or even creepy, but that weren't (yet) undeniably supernatural. And I got to know the family a bit so that by the time things got bad, I was definitely worried about them!
At a certain point, though, it became clear to the family that something unnatural was going on, and they realized the importance of escaping. That was when the tension really increased and I read faster and faster.
My favourite thing about this story was the setting. While the grounds sounded very pretty, there is something a bit spooky about living beside a cemetery, especially when combined with living in a practically empty apartment building.
While this book didn't rise to the level of truly scary (for me), I had fun reading it. I did find the slow pace a bit off-putting after a while, though.
I wasn't sure how I felt about the ending at first, but after some time away from it, I actually think I liked it. View Spoiler » It wasn't a happy ending, but it felt like it fit the story. « Hide Spoiler
While this book didn't totally wow me, it was interesting to read and had some good creepy moments!