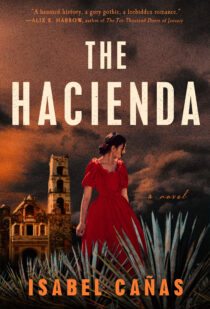 The Hacienda
By Isabel Cañas Source
Purchased
Published by
Berkley
on May 3, 2022
Rating:

In the overthrow of the Mexican government, Beatriz's father is executed and her home destroyed. When handsome Don Rodolfo Solórzano proposes, Beatriz ignores the rumors surrounding his first wife's sudden demise, choosing instead to seize the security his estate in the countryside provides. She will have her own home again, no matter the cost.

But Hacienda San Isidro is not the sanctuary she imagined.

When Rodolfo returns to work in the capital, visions and voices invade Beatriz's sleep. The weight of invisible eyes follows her every move. Rodolfo's sister, Juana, scoffs at Beatriz's fears—but why does she refuse to enter the house at night? Why does the cook burn copal incense at the edge of the kitchen and mark its doorway with strange symbols? What really happened to the first Doña Solórzano?

Beatriz only knows two things for certain: Something is wrong with the hacienda. And no one there will help her.

Desperate for help, she clings to the young priest, Padre Andrés, as an ally. No ordinary priest, Andrés will have to rely on his skills as a witch to fight off the malevolent presence haunting the hacienda and protect the woman for whom he feels a powerful, forbidden attraction. But even he might not be enough to battle the darkness.

Far from a refuge, San Isidro may be Beatriz's doom.
This was one of my highly anticipated 2022 reads, and one that I pre-ordered. It was getting some comparisons to Silvia Moreno-Garcia's Mexican Gothic, which I loved, so I was eager to read it right away.
I loved so much about this book: the setting, the romance, and the supernatural element (this house was clearly haunted). The house was eerie and creepy, and the romance was something I didn't expect but I liked it.
I highly recommend reading the author's note at the end as it adds context that I didn't have (because I didn't know about the Mexican War of Independence or the class, race, and religious issues).
This was a bit of a slow read for me, but I really enjoyed it and I absolutely loved the creepy atmosphere and suspense. My expectations / hopes were high going in, and the book lived up to them. Recommended!