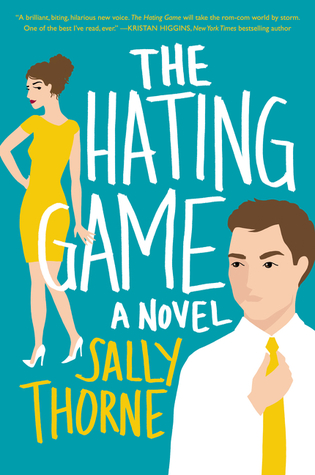 The Hating Game
By Sally Thorne Source
Purchased
Published by
William Morrow
on August 9, 2016
Rating:

Cover image and synopsis from Goodreads:

Lucy Hutton and Joshua Templeman hate each other. Not dislike. Not begrudgingly tolerate. Hate. And they have no problem displaying their feelings through a series of ritualistic passive aggressive maneuvers as they sit across from each other, executive assistants to co-CEOs of a publishing company. Lucy can't understand Joshua's joyless, uptight, meticulous approach to his job. Joshua is clearly baffled by Lucy's overly bright clothes, quirkiness, and Pollyanna attitude.

Now up for the same promotion, their battle of wills has come to a head and Lucy refuses to back down when their latest game could cost her her dream job…But the tension between Lucy and Joshua has also reached its boiling point, and Lucy is discovering that maybe she doesn't hate Joshua. And maybe, he doesn't hate her either. Or maybe this is just another game.
I read this book while I was dealing with a terrible sinus infection. Reading was really difficult, because looking down caused such sinus pain and pressure in my face, but I knew if I could get any reading done during that awful time period, I wanted it to be something light and fun. I have some bookish friends who love this book and I've heard really good things about it, so when I came across it while searching through my Kobo library, I thought this might just be the book.
I had a tough time getting into this one, I think because I didn't really like anyone for the first while. I thought Josh was mean and Lucy was kind of annoying, and the work situation and competition was more interesting to me than the relationship between the characters. But eventually I got into it, and while there were some steamy moments, the actual romance was pretty sweet.
I am still dipping my toes in the romance waters, and I am not really sure that I've read one yet that I've loved (and I'm not sure if I am a fan of enemies-to-lovers), but this was a fun way to pass some of the time during my illness. I do feel like the ending was kind of abrupt, though – see below for a little more on that (spoilers!).
Spoiler questions- did I totally miss it, or did we not even get to see Lucy do her presentation and find out if she got the job in the end? Was it just a given, due to Josh stepping away and taking another job? After all the build up, I think I would have liked to see Lucy succeeding and getting that job that she wanted so much.