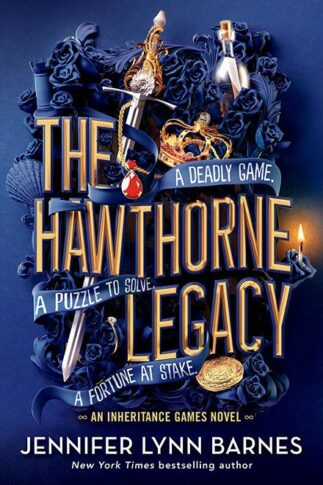 The Hawthorne Legacy
By Jennifer Lynn Barnes Series:
The Inheritance Games #2
Source
Purchased
Published by
Penguin
on September 7, 2021
Rating:

The Inheritance Games ended with a bombshell, and now heiress Avery Grambs has to pick up the pieces and find the man who might hold the answers to all of her questions - including why Tobias Hawthorne left his entire fortune to Avery, a virtual stranger, rather than to his own daughters or grandsons.

Thanks to a DNA test, Avery knows that she's not a Hawthorne by blood, but clues pile up hinting at a deeper connection to the family than she had ever imagined. As the mystery grows and the plot thickens, Grayson and Jameson, the enigmatic and magnetic Hawthorne grandsons, continue to pull Avery in different directions. And there are threats lurking around every corner, as adversaries emerge who will stop at nothing to see Avery out of the picture - by any means necessary.
I had so much fun reading The Inheritance Games that I bought this sequel and started reading nearly as soon as I finished book one. I was so excited to see what happened next in Avery's story!
Unfortunately, I didn't enjoy The Hawthorne Legacy nearly as much as I hoped I would. Compared to the fast pace of The Inheritance Games, this book felt like such a slog, and I had a much harder time buying into how over the top everything was.
I also really disliked the love triangle in this book. It doesn't add anything to the story, for me. But I did like getting to see more of Avery's friend Max, although it was kind of frustrating to see Avery's relationships with Max and with Libby take a backseat to the strained romance.
I'm definitely planning on reading book three when it comes out later this year, because I want to know how this series ends, but I think I'll be tempering my expectations.