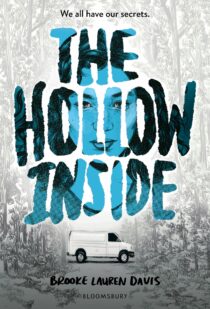 The Hollow Inside
By Brooke Lauren Davis Source
Received from the publisher
Published by
Bloomsbury YA
on May 25, 2021
Received from the publisher in exchange for an honest review. This does not affect my opinion of the book or the content of my review.
Rating:

Phoenix and mom Nina have spent years on the road, using their charm and wits to swindle and steal to get by. Now they've made it to their ultimate destination, Mom's hometown of Jasper Hollow. The plan: bring down Ellis Bowman, the man who ruined Nina's life.

After Phoenix gets caught spying, she spins a convincing story that inadvertently gives her full access to the Bowman family. As she digs deeper into their secrets, she finds herself entrenched in the tale of a death and a disappearance that doesn't entirely line up with what Mom has told her. Who, if anyone, is telling the whole truth?
This was such an interesting, intriguing story, and I liked it a lot. In a way, it gave me dark Gilmore Girls vibes, like if Lorelei and Rory had been con artists. And to me, the mother-daughter relationship between Phoenix and Nina was the most interesting part of the whole story. There was a darkness to their relationship, and it kept me feeling uncertain about who could be trusted and how things would all turn out in the end.
The story pulled me in right away, and once Phoenix got entrenched with the Bowmans, it became apparent to me that nothing was quite as she had been led to believe. I loved reading as Phoenix struggled with ideas of family and loyalty, and the quick pacing kept me reading, not wanting to put it down.
Recommended, I think particularly for fans of Kara Thomas and Courtney Summers (it gave me the same sort of feeling I get when I read their books).