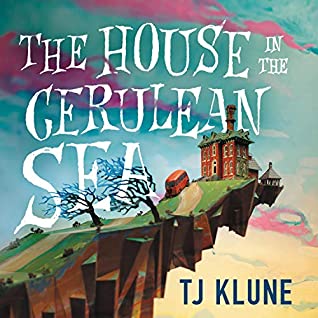 The House In The Cerulean Sea
By T.J. Klune Source
Scribd
Published by
MacMillan Audio
on March 16, 2020
Rating:

A magical island. A dangerous task. A burning secret.

Linus Baker leads a quiet, solitary life. At forty, he lives in a tiny house with a devious cat and his old records. As a Case Worker at the Department in Charge Of Magical Youth, he spends his days overseeing the well-being of children in government-sanctioned orphanages.

When Linus is unexpectedly summoned by Extremely Upper Management he's given a curious and highly classified assignment: travel to Marsyas Island Orphanage, where six dangerous children reside: a gnome, a sprite, a wyvern, an unidentifiable green blob, a were-Pomeranian, and the Antichrist. Linus must set aside his fears and determine whether or not they're likely to bring about the end of days.

But the children aren't the only secret the island keeps. Their caretaker is the charming and enigmatic Arthur Parnassus, who will do anything to keep his wards safe. As Arthur and Linus grow closer, long-held secrets are exposed, and Linus must make a choice: destroy a home or watch the world burn.

An enchanting story, masterfully told, The House in the Cerulean Sea is about the profound experience of discovering an unlikely family in an unexpected place—and realizing that family is yours.
Initially I had no plans to read this book, even though I'd been hearing a lot about it. My book brain has been going for darker books or mysteries/thrillers lately, but this wound up being a book club pick. I didn't read it in time for book club, but as it was enjoyed by so many, I was really curious and wanted to check it out.
I really struggled to get into this one and early on, considered DNFing a couple of times. I listened to this as an audiobook, and the narrator was too much for me. I didn't like the narration and all of the voices for different characters. So perhaps I would have enjoyed this more if I had read it in print or as an ebook.
I also had a hard time keeping track of all of the characters at first, and for the longest time I just couldn't get interested in what was happening. I definitely don't think this was a bad book, but it just was not the book for me. I kept thinking that there was a lot of sentimentality and that so many characters spoke in platitudes, which I guess I don't enjoy.
I can see what other readers love about this. The story is sweet and heartwarming, and has great messages and is very uplifting, and I did feel myself warming up to a couple of the characters as the book went on (Chauncey and Sal).
I feel bad for not loving this book, but I think this is simply a case of either me not being the right reader at the right time, or the audiobook narration being too much of a hurdle for me to overcome in order to feel engaged and get into the story.