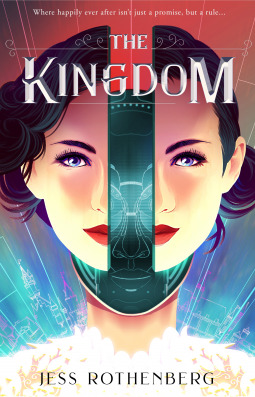 The Kingdom
By Jess Rothenberg Source
Received from the publisher
Published by
Henry Holt and Co.
on May 28, 2019
Received from the publisher in exchange for an honest review. This does not affect my opinion of the book or the content of my review.
Rating:

Glimmering like a jewel behind its gateway, The Kingdom(TM) is an immersive fantasy theme park where guests soar on virtual dragons, castles loom like giants, and bioengineered species--formerly extinct--roam free.

Ana is one of seven Fantasists, beautiful "princesses" engineered to make dreams come true. When she meets park employee Owen, Ana begins to experience emotions beyond her programming including, for the first time... love.

But the fairytale becomes a nightmare when Ana is accused of murdering Owen, igniting the trial of the century. Through courtroom testimony, interviews, and Ana's memories of Owen, emerges a tale of love, lies, and cruelty--and what it truly means to be human.
I was definitely drawn to this book because of its eye-catching cover and its synopsis, which sounds like Disney World + Westworld.
While I was initially intrigued and wanted to love the book, I sort of struggled to get into it. The timeline jumped around a lot, which I found very confusing early on. And while the ideas being explored were interesting, I just didn't connect with the characters enough to get really invested in the story.
So this was one of those "I liked it but didn't love it" stories, but it's got a lot of good ratings on Goodreads, so I might be the odd one out here.