The Kiss Quotient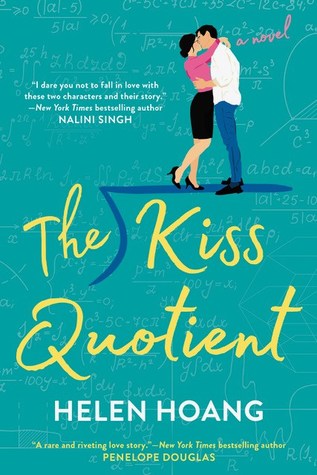 The Kiss Quotient
By Helen Hoang
Series: The Kiss Quotient #1
Source Purchased
Published by Berkley
on June 5, 2018

Stella Lane thinks math is the only thing that unites the universe. She comes up with algorithms to predict customer purchases — a job that has given her more money than she knows what to do with, and way less experience in the dating department than the average thirty-year-old.

It doesn't help that Stella has Asperger's and French kissing reminds her of a shark getting its teeth cleaned by pilot fish. Her conclusion: she needs lots of practice — with a professional. Which is why she hires escort Michael Phan. The Vietnamese and Swedish stunner can't afford to turn down Stella's offer, and agrees to help her check off all the boxes on her lesson plan — from foreplay to more-than-missionary position…

Before long, Stella not only learns to appreciate his kisses, but to crave all the other things he's making her feel. Soon, their no-nonsense partnership starts making a strange kind of sense. And the pattern that emerges will convince Stella that love is the best kind of logic…
I actually DNFd this book at the beginning of the year. But this year I took another look at some books I DNFd and gave some of them a second chance, including this one.
I'm glad I gave this book another chance. I think it might be a case of reading it at the right time. I was not in the zone to read a romance when I initially picked this up, but this time around it was what I was looking for.
The premise was interesting, and I liked reading about an autistic main character who was good at and loved her job. I liked Stella a lot.
The romance itself was fine. It was a sweet but steamy romcom, but it wasn't a standout for me in the feels department. But I'm glad I gave this one another chance, and I will be reading the sequel, The Bride Test, featuring secondary characters from this book.
Related Posts