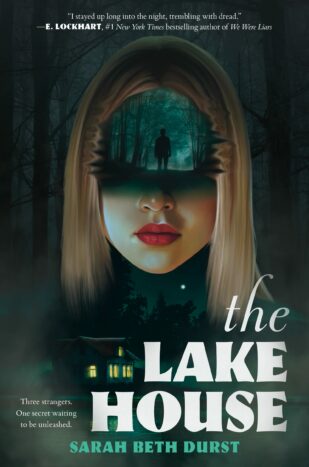 The Lake House
By Sarah Beth Durst Source
Received from the publisher
Published by
HarperTeen
on April 25, 2023
Received from the publisher in exchange for an honest review. This does not affect my opinion of the book or the content of my review.
Rating:

Claire's grown up triple-checking locks. Counting her steps. Second-guessing every decision. It's just how she's wired – her worst-case scenarios never actually come true.

Until she arrives at an off-the-grid summer camp to find a blackened, burned husk instead of a lodge – and no survivors, except her and two other late arrivals: Reyva and Mariana.

When the three girls find a dead body in the woods, they realize none of this is an accident. Someone, something, is hunting them. Something that hides in the shadows. Something that refuses to let them leave.
I was immediately intrigued by the premise, and when I started reading I loved how quickly the story moved. It only took a chapter or two for the girls' dire situation to reveal itself.
I really enjoyed the survival element of the story, and the friendship between the girls, and the survival element was really tense and pulled me in.
After such a strong start, though, the pacing seemed to drag around the halfway mark for me. And at one point the story took a turn that didn't really work for me. I think I would have liked it better if it went that direction from the start, since as it was, I didn't think the story leaned into that aspect as much as it could have, had it gone there from the beginning (being vague for spoiler reasons!).