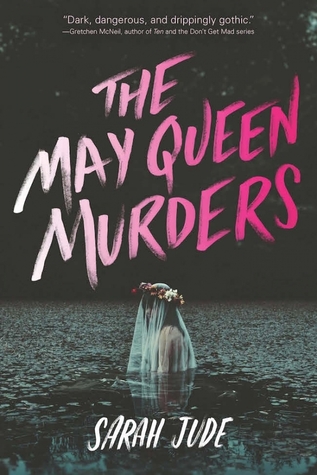 The May Queen Murders
By Sarah Jude Source
Received from the publisher
Published by
HMH Books for Young Readers
on May 3, 2016
Received from the publisher in exchange for an honest review. This does not affect my opinion of the book or the content of my review.
Rating:

Cover image and summary from Goodreads:

Stay on the roads. Don't enter the woods. Never go out at night.

Those are the rules in Rowan's Glen, a remote farming community in the Missouri Ozarks where Ivy Templeton's family has lived for centuries. It's an old-fashioned way of life, full of superstition and traditions, and sixteen-year-old Ivy loves it. The other kids at school may think the Glen kids are weird, but Ivy doesn't care—she has her cousin Heather as her best friend. The two girls share everything with each other—or so Ivy thinks. When Heather goes missing after a May Day celebration, Ivy discovers that both her best friend and her beloved hometown are as full of secrets as the woods that surround them.
I was drawn to this book because I love dark, twisty mysteries, and this one has a gorgeous cover to boot! So I was pretty excited when an ARC arrived in my mailbox.
I really enjoyed the setting. It was kind of different from other books I've been reading, and I was so interested in Ivy's community and its superstitions. I also liked the mystery, but I feel like it unravelled too quickly in the end. It felt like one twist too many and I think the pacing was off for me.  And while the story kept my interest, I didn't feel any sort of attachment or connection to the characters.
So I definitely have mixed feelings about this one. There were aspects of The May Queen Murders that I liked, and other aspects that just didn't work for me. Recommended for those who, like me, will be pulled in by the premise. While I liked it, I just didn't love this one in the end.