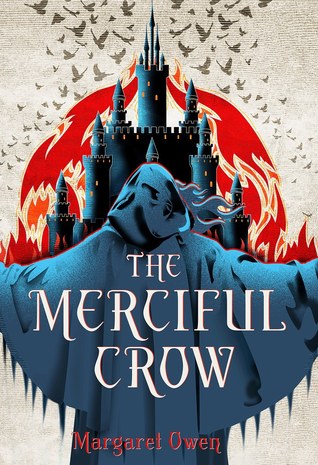 The Merciful Crow
By Margaret Owen Series:
The Merciful Crow #1
Source
Purchased
Published by
Henry Holt (BYR)
on July 30, 2019
Rating:

A future chieftain.

Fie abides by one rule: look after your own. Her Crow caste of undertakers and mercy-killers takes more abuse than coin, but when they're called to collect royal dead, she's hoping they'll find the payout of a lifetime.

A fugitive prince.

When Crown Prince Jasimir turns out to have faked his death, Fie's ready to cut her losses—and perhaps his throat. But he offers a wager that she can't refuse: protect him from a ruthless queen, and he'll protect the Crows when he reigns.

A too-cunning bodyguard.

Hawk warrior Tavin has always put Jas's life before his, magically assuming the prince's appearance and shadowing his every step. But what happens when Tavin begins to want something to call his own?
This was a book club pick, and I think it might have been one that I suggested. I read the synopsis and saw favourable comparisons to Leigh Bardugo, so of course I was very excited to read it!
Generally, I quite enjoyed this one. I was so interested in the magic system, and I really liked Fie. I also liked that the story surprised me on occasion, and I really liked the writing. There was a sharpness to Fie that I enjoyed.
Tavin and Jasimir seemed woefully underdeveloped by comparison, and early on were indistinguishable from each other. I do want to read the sequel, and I hope we get to learn more about them then.
The story really dragged for me in the middle, compared to the rest of the book, but I feel like I should admit that this could be because I read this book while I was fully consumed by the BTS comeback, so it's likely that no book could have held my interest during that time.