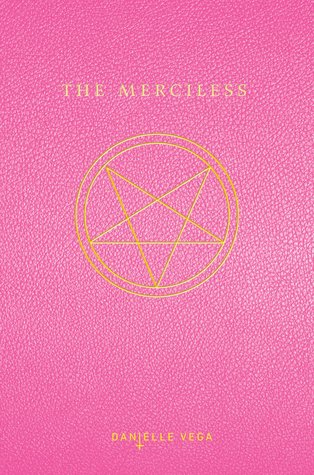 The Merciless
By Danielle Vega Series:
The Merciless #1
Source
Purchased
Published by
Razorbill
on June 12, 2014
Rating:

Cover image and summary from Goodreads:

Forgive us, Father, for we have sinned

Brooklyn Stevens sits in a pool of her own blood, tied up and gagged. No one outside of these dank basement walls knows she's here. No one can hear her scream.

Sofia Flores knows she shouldn't have gotten involved. When she befriended Riley, Grace, and Alexis on her first day at school, she admired them, with their perfect hair and their good-girl ways. They said they wanted to save Brooklyn. They wanted to help her. Sofia didn't realize they believed Brooklyn was possessed.

Now, Riley and the girls are performing an exorcism on Brooklyn—but their idea of an exorcism is closer to torture than salvation. All Sofia wants is to get out of this house. But there is no way out. Sofia can't go against the other girls . . . unless she wants to be next. . . .

In this chilling debut, Danielle Vega delivers blood-curdling suspense and terror on every page. By the shockingly twisted end, readers will be faced with the most haunting question of all: Is there evil in all of us?
The Merciless is a book that I'd wanted to read ever since I first heard about it. The combination of the chilling summary and the pretty cover was irresistible. I per-ordered the book but didn't pick it up to read it until the first weekend of October. It turned out to be a terrific pre-Halloween read!
I finished this book in one sitting. It isn't a long book, and it was completely engrossing. I was immediately intrigued by Sofia and her new friends: Riley, Grace, and Alexis. They were pretty, popular, and wanted Sofia to be their friend. But things turned dark very quickly, with the girls determined to perform an exorcism on Brooklyn, their classmate. What is Sofia supposed to do: go along with it and hope that it will soon be over? Try to stop them and risk becoming a new target?
Author Danielle Vega brilliantly created such tension and suspense, and I couldn't read fast enough. I was fascinated by the power that Riley held over the other girls, and the importance of religion in their lives. I found myself flip-flopping between thinking that Sofia's new friends were out of their minds, or that maybe there really was something wrong with Brooklyn.
I was well aware before reading this book that it was really violent. Perhaps because of that, I wasn't shocked by it. It was gruesome and appropriately disturbing, but I was at least expecting it so I wasn't surprised. If you're squeamish at all, you may end up skimming quite a few parts of this book.
I didn't expect the story to end the way it did, and while I really liked it, it unfortunately felt super rushed to me.
Overall, The Merciless was an awesome read! The story is creepy, tense, suspenseful, and kept me guessing right up until the end! Highly recommended.