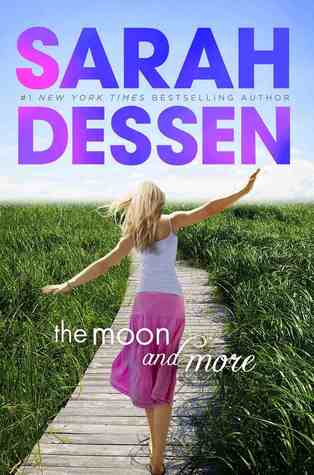 The Moon and More
By Sarah Dessen Source
Borrowed ARC
Published by
Viking Books for Young Readers
on June 4, 2013
Rating:

Luke is the perfect boyfriend: handsome, kind, fun. He and Emaline have been together all through high school in Colby, the beach town where they both grew up. But now, in the summer before college, Emaline wonders if perfect is good enough.

Enter Theo, a super-ambitious outsider, a New Yorker assisting on a documentary film about a reclusive local artist. Theo's sophisticated, exciting, and, best of all, he thinks Emaline is much too smart for Colby.

Emaline's mostly-absentee father, too, thinks Emaline should have a bigger life, and he's convinced that an Ivy League education is the only route to realizing her potential. Emaline is attracted to the bright future that Theo and her father promise. But she also clings to the deep roots of her loving mother, stepfather, and sisters. Can she ignore the pull of the happily familiar world of Colby?

Emaline wants the moon and more, but how can she balance where she comes from with where she's going?
As part of my efforts to read more contemporary YA fiction, I borrowed this ARC of Sarah Dessen's upcoming book. I've never read anything else she's written, but I've heard a lot about her books and how much people love them.
I really liked this book! I found it so easy to identify with Emaline, and I was totally reminded of my final summer back home in London before I moved away for university in Ottawa. I remembered the mix of excitement, anxiety, and fear, and like Emaline, tried to put it all out of my mind for as long as I could.
Emaline is spending her last summer in the beach town of Colby working at her family's business, managing beach-front rental properties, and hanging out with her boyfriend Luke. Things get complicated when a documentary film-maker and her assistant, Theo, rent one of the houses,  and it seems like there are sparks between Theo and Emaline. Emaline's father also arrives in Colby, and their tense relationship becomes even more so when the subject of her education comes up.
There was so much going on between Emaline and these characters, and I felt that the relationships were very complex. No one seemed clear cut 'good' or 'bad': at times, everyone in Emaline's life – Luke, Theo, Emaline's father, her sisters, her friends – was annoying or frustrating, but that's how real-life relationships are. It isn't black and white, there are many shades of grey in between, and that's part of what I loved about this book. I felt that there was a depth to the relationships and interactions between the characters, which made them all feel more real to me.
I really loved the small-town setting. I'm a city girl, so reading about these little towns where everyone knows each other is always fun.
I loved Emaline, and her friends Daisy and Morris. They were very relatable, and they were all dealing with the impending end of summer and going away to school in their own ways. I also liked Luke, Emaline's boyfriend, although their relationship hit a rocky patch and he behaved in a way that made me angry.
Compared to Theo, though, I liked Luke a lot better. I suppose I can understand Theo's appeal to Emaline: he's cute, from New York, he seems to get excited and enthusiastic about everything, he's intelligent, and he likes Emaline. The clear differences between the two guys – Luke is a local from Colby who Emaline has known and dated for so long, while Theo is new and exciting and unknown – were a reminder to me that Emaline was going to be leaving Colby, where she's grown up and knows everyone, to a new city full of new people, where no one will know her. To be honest, though, I never really cared for Theo. He just came off as snobby, arrogant, and the way he kept making these major plans to celebrate things like their one and two week anniversaries came off to me as trying way too hard. He was the one part of the book that didn't work for me.
I was very interested in Emaline's relationship with her father (not to be confused with her stepfather, aka her dad). They hadn't been in touch much throughout her life, but via e-mail and the occasional call or visit he had shown a great interest in her education. He offered to put her through school if she got into Columbia University, but when she did, he dropped the bombshell that he couldn't help her. Emaline ended up accepting a full scholarship from another university a couple of hours away from Colby, and communication with her father became very infrequent. When he shows up in Colby with his 10-year old son, Emaline's half-brother Benji, I was looking forward to seeing what would come of their relationship, and if things would improve, and why he had pulled away from her.
I haven't even mentioned other things like Emaline's relationship with her mother, grandmother, and sisters, but they were great too. I loved that Emaline had such a good relationship with her family, since I sometimes find that to be a bit lacking in some of the YA books I've read. Her family and friends are clearly so important to Emaline, and that's part of what I liked about her.
I definitely don't want to give away any spoilers, so I will just say that I was satisfied with the way things ended. Not everything was perfect, and I appreciated that. Some of Emaline's relationships were strengthened over the summer, and others weren't, but by the end of the book, I think she had a very good idea of who she was and what she wanted to do with her life.
Even though there were no zombies, dragons, plagues, or ghosts, I enjoyed this book! I will definitely be going back to find some other books by Sarah Dessen to add to my TBR.