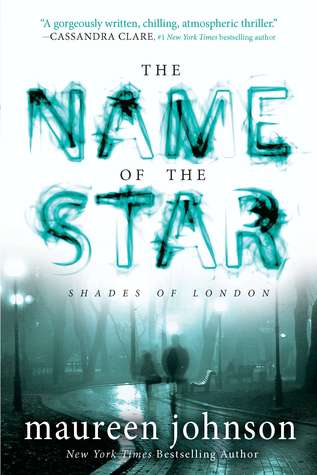 The Name of the Star
By Maureen Johnson Series:
Shades of London #1
Source
Library
Published by
Speak
on September 20, 2011
Rating:

The day Louisiana teenager Rory Deveaux arrives in London marks a memorable occasion. For Rory, it's the start of a new life at a London boarding school. But for many, this will be remembered as the day a series of brutal murders broke out across the city, gruesome crimes mimicking the horrific Jack the Ripper in the autumn of 1888.

Soon "Rippermania" takes hold of modern-day London, and the police are left with few leads and no witnesses. Except one. Rory spotted the man police now believe to be the prime suspect. But she is the only one who saw him. Even her roommate, who was with her at the time, didn't notice the mysterious man. So why can only Rory see him? And more urgently, why has Rory become his next target? In this edge-of-your-seat thriller, full of suspense, humor, and romance, Rory will learn the truth about the secret ghost police of London and discover her own shocking abilities.
I've heard a lot about the sequel to this book, The Madness Underneath, without realizing it was a sequel, so when I went searching my library to put my name on the hold list, I discovered that this book came first.
When describing this book to my husband, I said it was about an American girl who attends school in England, where someone is killing people using the same methods as Jack the Ripper, on the same dates. Plus ghosts. This book is obviously right up my alley!
I loved the setting: a boarding school in London. I love stories that are set in boarding schools! It was also fun to see Rory learn about differences between American and British life: the slang, classes on Saturday, school sports, etc.
There was a spooky atmosphere to this book. Although the dates of the murders were fairly well known in advance because of Jack the Ripper's murders, the city was on high alert and people were on edge, waiting for the Jack the Ripper copycat to strike again. Throw in some ghosts and this story gets even spookier, which I loved. The reason that Rory and the Shades (London's secret ghost police) can see ghosts was really interesting, and I loved slowly learning more about the Shades and how they operate.
The characters in this book were great. Rory had a distinct voice and was really funny. I liked her right away, and I loved hearing her stories about life and family back in Louisiana. Her roommate, Jazza, was in many ways Rory's opposite but they got along great and I really like her. Jazza might be my favourite character. Then there's Charlotte, the head prefect, and probably as close to a 'mean girl' as they come at Wexford. We're not really supposed to like her, but I think she makes a fun, harmless villain (especially when you consider there's a ghost after Rory!) and am actually looking forward to reading about her some more. Boo, who becomes Rory and Jazza's roommate later in the book, was fun. Compared to Jazza, she was wild – outgoing, loud, not afraid to speak her mind – and I loved the contrast between the two of them. Jerome, the love interest, was the only character that I didn't really care for. He was nice and all, but compared to the other characters (especially Stephen and Callum, two of the Shades), he just seemed a little bland.
I was not really feeling the Rory-Jerome romance, but I got the feeling that it wasn't really going to last (of course, I could be wrong). I'll be interested to see what happens with the two of them in the next book, but I won't be surprised if a love triangle develops that involves Stephen (who I prefer to Jerome).
Thinking back on this book, there wasn't really anything that I disliked. Other than thinking Jerome was a bit dull, I loved everything: the story, the supernatural element, the characters, the setting, the way the main part of the story was wrapped up but left room for a new story with these characters…this was one of my favourite books I've read so far this year!
I am definitely reading the next book in this series, as soon as I can get it from the library, and if you like supernatural YA, you should read this book!