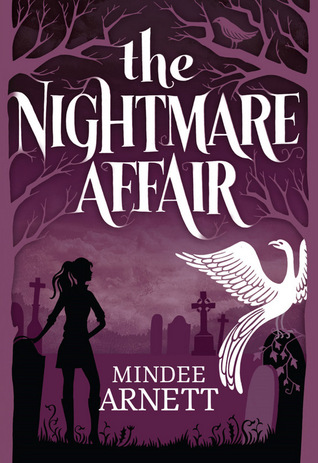 The Nightmare Affair
By Mindee Arnett Series:
Arkwell Academy #1
Source
Purchased
Published by
Tor Teen
on March 5, 2013
Rating:

Cover image and summary from Goodreads:

Sixteen-year-old Dusty Everhart breaks into houses late at night, but not because she's a criminal. No, she's a Nightmare.

Literally.

Being the only Nightmare at Arkwell Academy, a boarding school for magickind, and living in the shadow of her mother's infamy, is hard enough. But when Dusty sneaks into Eli Booker's house, things get a whole lot more complicated. He's hot, which means sitting on his chest and invading his dreams couldn't get much more embarrassing. But it does. Eli is dreaming of a murder.

Then Eli's dream comes true.

Now Dusty has to follow the clues—both within Eli's dreams and out of them—to stop the killer before more people turn up dead. And before the killer learns what she's up to and marks her as the next target.
I bought this book ages ago and kept wanting to read it and somehow not reading it, until I finally realized it would make a great read during October, pre-Halloween. PS how awesome is that cover?? I totally love it.
This was such a fun book! I wish I hadn't waited so long to read it, so that I could have enjoyed it sooner. I was so excited about the main character being a Nightmare. What a cool idea! And while this book has paranormal or supernatural elements, it isn't a scary book, so don't be put off by that!
There was nothing in this book that really surprised me as far as the mystery and the romance, but I enjoyed reading it anyway. Dusty was funny and a bit snarky, and I liked her right away. I was also really interested in her relationship with her mom, also a Nightmare. Dusty lived with her human father until her abilities were discovered and she moved to Arkwell. Dusty had a lot of anger towards her mom, so when she popped up and became involved in Dusty's life, I knew things were going to get even more complicated (for Dusty) and interesting (for me!).
As for the setting, I am always a fan of stories that take place in boarding schools! I've said it before, but I love the way they lend themselves to so many possibilities – particularly in this book, where the students living at the school include fairies and sirens. I really liked learning about the way the magickind govern themselves and keep themselves somewhat hidden from humans, and I really want to read more about that world.
The one complaint I had while reading was that the plot seemed a bit meandering at times. Sometimes I felt that the characters should have been acting with more urgency, given the stakes. Other than that, I thought this was a pretty well-balanced book. It had a nice mix of action, mystery, (light) romance, and humour.
I'm really excited for the sequel, The Nightmare Dilemma. I think that there is a lot left to explore in this world, especially since Dusty has only recently learned about her abilities and magickind. I can't wait to get my hands on the next book!