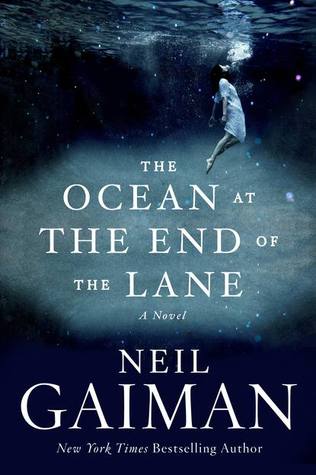 The Ocean at the End of the Lane
By Neil Gaiman Source
Purchased
Published by
William Morrow Books
on June 18, 2013
Rating:

Cover image and summary from Goodreads:

Sussex, England. A middle-aged man returns to his childhood home to attend a funeral. Although the house he lived in is long gone, he is drawn to the farm at the end of the road, where, when he was seven, he encountered a most remarkable girl, Lettie Hempstock, and her mother and grandmother. He hasn't thought of Lettie in decades, and yet as he sits by the pond (a pond that she'd claimed was an ocean) behind the ramshackle old farmhouse, the unremembered past comes flooding back. And it is a past too strange, too frightening, too dangerous to have happened to anyone, let alone a small boy.

Forty years earlier, a man committed suicide in a stolen car at this farm at the end of the road. Like a fuse on a firework, his death lit a touchpaper and resonated in unimaginable ways. The darkness was unleashed, something scary and thoroughly incomprehensible to a little boy. And Lettie—magical, comforting, wise beyond her years—promised to protect him, no matter what.

A groundbreaking work from a master, The Ocean at the End of the Lane is told with a rare understanding of all that makes us human, and shows the power of stories to reveal and shelter us from the darkness inside and out. It is a stirring, terrifying, and elegiac fable as delicate as a butterfly's wing and as menacing as a knife in the dark.
This was my pick for the Sisterhood of the Traveling Book Club, and I was so eager to read it. I haven't read anything by Neil Gaiman before but his books have been on my TBR for ages. Going into this, I was really excited because it seemed like I'd only seen 5 star, glowing reviews for this book. It sounded like a spooky, touching, enlightening book, and I couldn't wait to get into it.
I read most of this book in one day. It's not big at all – I think my copy is under 200 pages – and it was certainly interesting. But there was something about it that I struggled with and I ended up feeling bad for not loving this book as much as other readers. I don't know if it was a feeling of too high expectations, or if something went over my head but if it was explained to me, maybe I'd see what everyone else is seeing, or if it simply wasn't my kind of book, but something felt off.
The writing was beautiful. There's no disputing that this is well-written. There were moments that were wonderfully spooky. There was a lot of food for thought about childhood and adulthood, and the rules and power (or powerlessness) that take place. Although I read most of the book in one day, I never quite felt pulled into the book's world. I can't put my finger on why, and I really wanted to fall in love with this book, but it didn't work out that way.
We had an interesting discussion about this one. It seemed that none of us were totally blown away by this book, but we agreed that the writing was great, even if we didn't feel pulled into the story or any connection with the characters.
Check out the other gals' reviews:
Our next book will be Tiger Lily by Jodi Lynn Anderson, which I'm excited to read!