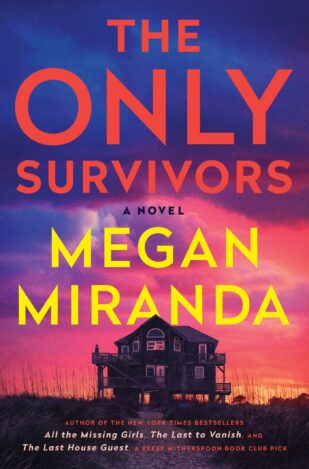 The Only Survivors
By Megan Miranda Source
Purchased
Published by
S&S/Marysue Rucci Books
on April 11, 2023
Rating:

Seven hours in the past. Seven days in the present. Seven survivors remaining. Who would you save?

A decade ago, two vans filled with high school seniors on a school service trip crashed into a Tennessee ravine—a tragedy that claimed the lives of multiple classmates and teachers. The nine students who managed to escape the river that night were irrevocably changed. A year later, after one of the survivors dies by suicide on the anniversary of the crash, the rest of them make a pact: to come together each year to commemorate that terrible night.

To keep one another safe.
To hold one another accountable.
Or both.

Their annual meeting place, a house on the Outer Banks, has long been a refuge. But by the tenth anniversary, Cassidy Bent has worked to distance herself from the tragedy and from the other survivors. She's changed her mobile number. She's blocked the others' email addresses. This year, she is determined to finally break ties once and for all. But on the day of the reunion, she receives a text with an obituary attached: another survivor is gone. Now they are seven—and Cassidy finds herself hurling back toward the group, wild with grief—and suspicion.

Almost immediately, something feels off this year. Cassidy is the first to notice when Amaya, the annual organizer, slips away, overwhelmed. This wouldn't raise alarm except for the impending storm. Suddenly, they're facing the threat of closed roads and surging waters…again. Then Amaya stops responding to her phone. After all they've been through, she wouldn't willfully make them worry. Would she?

And—as they promised long ago—each survivor will do whatever he or she can do to save one another. Won't they?

A propulsive and chilling locked-box mystery filled with the dazzling hairpin twists that are the author's signature, The Only Survivors is New York Times bestselling author Megan Miranda's best novel yet.
I'm a fan of Megan Miranda's thrillers, and this was one of my favourites of hers!
I loved that this group of people reunited every year, but that they weren't necessarily friends. They were bound together by past tragedy and felt obligated to gather every year but didn't really touch on the subject of what brought them together.
What I really liked about this was the way Megan Miranda wove the present and the reveal of the past tragedy together, in a way that didn't jar me out of the story or slow down the pacing. I read this in a couple of days and really enjoyed it, and stayed up well past my bedtime to finish!
This is a great mystery, and with the beach setting, makes for a fantastic summer read!