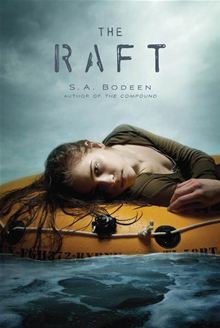 The Raft
By S.A. Bodeen Source
Library
Published by
Feiwel and Friends
on August 21, 2012
Rating:

Robie is an experienced traveler. She's taken the flight from Honolulu to the Midway Atoll, a group of Pacific islands where her parents live, many times. When she has to get to Midway in a hurry after a visit with her aunt in Hawaii, she gets on the next cargo flight at the last minute. She knows the pilot, but on this flight, there's a new co-pilot named Max. All systems are go until a storm hits during the flight. The only passenger, Robie doesn't panic until the engine suddenly cuts out and Max shouts at her to put on a life jacket. They are over miles of Pacific Ocean. She sees Max struggle with a raft.

And then . . . she's in the water. Fighting for her life. Max pulls her onto the raft, and that's when the real terror begins. They have no water. Their only food is a bag of Skittles. There are sharks. There is an island. But there's no sign of help on the way.
This book has been on my TBR for a long time, and I finally snagged a copy from the library.
I have said before how much I love survival stories, and this seemed like the ultimate story of survival! Trapped on a raft in the Pacific ocean with no food…I got shivers just imagining it! What Robie experiences in this book is definitely something I never want to go through!
This book was a really quick read. Some of the chapters were a single page, sometimes even just a few sentences on a page. This meant that I was able to read most of the book over my lunch hour, and I was frantically turning the pages, trying to see how it all ended before I had to get back to work! I was definitely pulled into the story right away, and couldn't put the book down without knowing how things ended for Robie.
This book made me so anxious. Robie faced so many challenges right off the bat: dehydration, hunger, trying to shield herself and Max from the sun, a leaky raft, sudden rain, and of course the mental/emotional affects of surviving a plane crash and ending up in a life raft with no supplies. Making matters worse is the fact that no one knew Robie was getting on that plane. As far as anyone's concerned, the only people on board were the two pilots, and Robie knows that no one will be looking for her in the wreckage.
Initially, Robie was scared, helpless, and waiting for Max to do something to save them. By the end of the book, though, she was finally able to take charge and do whatever it took to survive. I was pretty impressed, because I have no idea how I would cope in the same situation! I really liked Robie and wanted her to toughen up and pull through.
There was a small twist to the book, but knowing it was coming didn't ruin anything for me. View Spoiler » I suspected pretty early on, once Max and Robie started talking to each other, that he was dead and that their conversations were a figment of her imagination. I thought it was a good plot device because it gave a bit of insight into Robie, and also into Max, as most of what he 'told' Robie about himself came from his journal that she found. I liked Max, and by the end, when Robie finally acknowledged that he was dead and only a figment of her imagination by that point, it actually made me pretty sad. Getting to know someone and caring about a character who is already dead and can't be rescued or saved was pretty gut-wrenching. Of course, making things worse is the fact that we learn the crash was caused by Robie – she and her luggage weren't weighed before getting on the plane, and so it was overloaded. I think Robie's guilt definitely played a part in her refusal, at first, to acknowledge that he was dead. « Hide Spoiler
I loved the setting, and the snippets of Robie's life living on a Pacific island. Hearing about how everything – food, supplies, etc. – has to be shipped to people living on the islands was kind of fascinating, because it's such a different way of life than what I'm used to. I also liked reading about the different wildlife in that part of the world, and the numerous small islands Robie described, hoping she'd be able to find herself on one of them.
I am so pleased I finally got to read this book! I've only flown once before, many years ago, and I'm terrified to fly. This book didn't help with my fear, but that's okay, I don't think I'll be flying anytime soon. If, like me, you love nail-biting stories about trying to survive against all odds, I definitely recommend it.