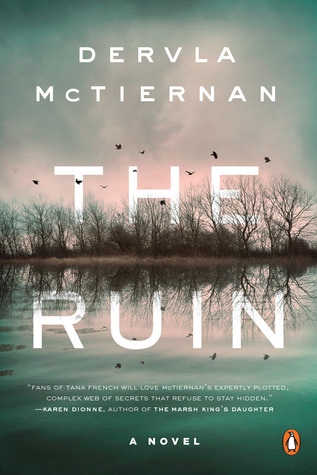 The Ruin
By Dervla McTiernan Series:
Cormac Reilly #1
Source
Purchased
Published by
Penguin Books
on July 3, 2018
Rating:

It's been twenty years since Cormac Reilly discovered the body of Hilaria Blake in her crumbling Georgian home. But he's never forgotten the two children she left behind...

When Aisling Conroy's boyfriend Jack is found in the freezing black waters of the river Corrib, the police tell her it was suicide. A surgical resident, she throws herself into study and work, trying to forget - until Jack's sister Maude shows up. Maude suspects foul play, and she is determined to prove it.

DI Cormac Reilly is the detective assigned with the re-investigation of an 'accidental' overdose twenty years ago - of Jack and Maude's drug- and alcohol-addled mother. Cormac is under increasing pressure to charge Maude for murder when his colleague Danny uncovers a piece of evidence that will change everything...

This unsettling crime debut draws us deep into the dark heart of Ireland and asks who will protect you when the authorities can't - or won't.
I was drawn to this book because it was being recommended for fans of Tana French, and I love her Dublin Murder squad series.
I'm happy to say that I definitely got a Tana French vibe from this book! I really liked it, especially the way the story began, with Cormac Reilly responding to a call, and then moving forward to the present time. It becomes clear the the old case is connected to a present-day investigation, and it was so interesting.
I had some of the mystery sorted out before the end, but not all of it, and I stayed up late finish this one. If you're looking for a good mystery – especially to hold you over while waiting for some new Tana French – then I recommend this one. I can't wait to read the next in the series!