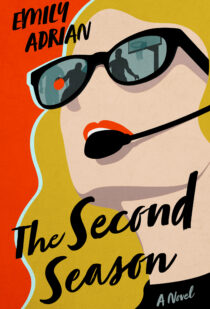 The Second Season
By Emily Adrian Source
Library
Published by
Blackstone Publishing
on July 27, 2021
Rating:

Ruth Devon starred for Georgetown Basketball back in college—until she injured her knee, married her coach, and found a new career calling games on the radio. Twenty years later, Ruth and her now-ex-husband, Lester, are two of the most famous faces in sports media. When Lester decides to retire from the announcers' booth, Ruth goes after his job. If she gets it, she will be the first woman to call NBA games on national television.

For now, Ruth is reporting from the sideline of the NBA finals, immersed in the high-pressure spectacle of the post-season. But in a deserted locker room at halftime, Ruth makes a discovery that shatters her vision of her future. Instantly, she is torn between the two things she has always wanted most: the game and motherhood.

With warmth and incisive observation, Adrian brings to life the obsessions, emotions, and drama of fandom. The Second Season asks why, how, and whom we watch, while offering a rich and complicated account of motherhood, marriage, and ambition. Adrian's character study of Ruth Devon illuminates a beautiful basketball mind—and the struggle of a woman who claims authority in a male-dominated world.
This was a really interesting, out of left field pick for me and I can't remember how I first heard about this book.
I liked it, although there was so much basketball description and shop talk that my eyes did glaze over at times (but if you love sports and basketball it's probably perfect!). I am not very sportsy but what intrigued me about this story was a woman sportscaster in a male-dominated field, and I liked reading about Ruth having to navigate that while also balancing her career ambitions, her personal life, and motherhood. And I particularly enjoyed the rivalry between two players that became a bigger part of the story. But there were some time jumps that I found a little jarring and disorienting.
I did struggle at times to maintain my interest, as this is a different kind of book than my usual go-to reading material, but towards the end as the stakes got higher I found I couldn't put it down.