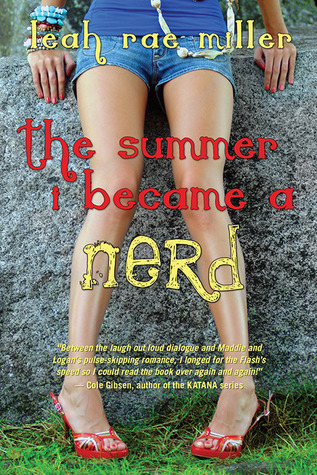 The Summer I Became a Nerd
By Leah Rae Miller Published by
Entangled Teen
on May 7, 2013
Rating:

Cover image and summary from Goodreads:

On the outside, seventeen-year-old Madelyne Summers looks like your typical blond cheerleader—perky, popular, and dating the star quarterback. But inside, Maddie spends more time agonizing over what will happen in the next issue of her favorite comic book than planning pep rallies with her squad. That she's a nerd hiding in a popular girl's body isn't just unknown, it's anti-known. And she needs to keep it that way.

Summer is the only time Maddie lets her real self out to play, but when she slips up and the adorkable guy behind the local comic shop's counter uncovers her secret, she's busted. Before she can shake a pom-pom, Maddie's whisked into Logan's world of comic conventions, live-action role-playing, and first-person-shooter video games. And she loves it. But the more she denies who she really is, the deeper her lies become…and the more she risks losing Logan forever.
This book sounded so cute and fun and summer-y! I was definitely in the mood for a cute summer romance and this book came along at the exact right time. And anything even remotely nerd-y is irresistible for me.
Maddie is secretly a nerd, following a humiliating experience when she was younger. Now she's one of the popular girls: she's a cheerleader, dating one of the jocks. But she worries that if her popular friends knew that she really loved comic books and video games and sci fi movies, they'd shun her – so she hides her true self and pretends to care about things she doesn't enjoy, like her BFF's favourite singer.
Due to a series of events involving the final issue of her favourite comic book series, Maddie bumps into Logan, a guy she kind of knows from school, and begins spending time with him. Logan's parents own the local comic book shop. The development of the relationship between Maddie and Logan was adorable, but complicated by Maddie's fear of her "true self" being found out, which unfortunately leads to a lot of deception with Logan, her parents, and her BFF – not to mention the problem of Maddie having a boyfriend who's out of town all summer!
One of the highlights of the story for me was the LARPing that Maddie gets into. It was so fun and interesting to read about! And of course, I couldn't help but love Dan, Logan's best friend, who was such a fun, funny character.
Nowadays, I don't try to hide who I am or what I like – I'm a proud nerd/fangirl/whatever – but high school was for sure a different story. So it wasn't too tough to put myself in Maddie's shoes (not that I was popular and dating a football player, but in the sense of hiding your true self, or at least downplaying the things that you were passionate about). I loved the overall message here about being true to yourself and honest about who you are and what you love.
This was a great book, and it definitely got me in the mood for fun summer reads! It was cute, funny, nerdy, and had parental figures who were actively involved in their children's lives. Definitely recommended!