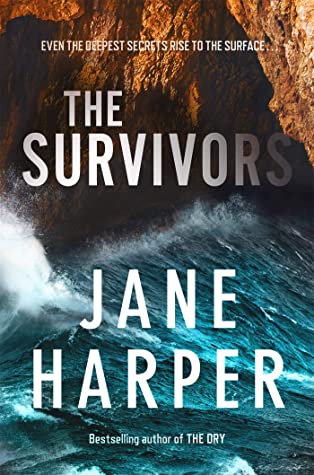 The Survivors
By Jane Harper Source
Library
Published by
Flatiron Books
on September 22, 2020
Rating:

Coming home dredges up deeply buried secrets...

Kieran Elliott's life changed forever on the day a reckless mistake led to devastating consequences.

The guilt that still haunts him resurfaces during a visit with his young family to the small coastal community he once called home.

Kieran's parents are struggling in a town where fortunes are forged by the sea. Between them all is his absent brother, Finn.

When a body is discovered on the beach, long-held secrets threaten to emerge. A sunken wreck, a missing girl, and questions that have never washed away...
I love Jane Harper's books, so I was super excited to read The Survivors.
I definitely liked this book, but for some reason I couldn't get into this one the same way that I was pulled into her other books. I initially tried to read this on audio and couldn't focus, so switched to the ebook via my library, and that definitely made it easier for me to connect.
I really liked the setting, and the back and forth between past and present, but this one just felt so slow and like it stalled at times for me in a way that made it less compelling than I had expected.
Still, Jane Harper writes great mysteries with interesting character dynamics, so although this was not my favourite book of hers, it was still a good read!