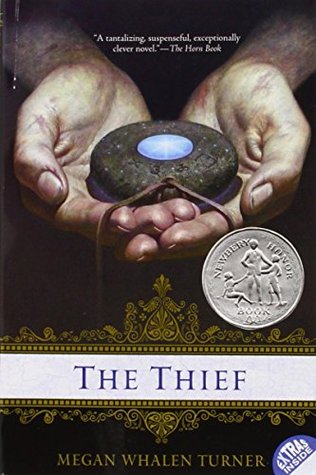 The Thief
By Megan Whalen Turner Source
Purchased
Published by
Greenwillow Books
on October 31, 1996
Rating:

The king's scholar, the magus, believes he knows the site of an ancient treasure. To attain it for his king, he needs a skillful thief, and he selects Gen from the king's prison. The magus is interested only in the thief's abilities.

What Gen is interested in is anyone's guess. Their journey toward the treasure is both dangerous and difficult, lightened only imperceptibly by the tales they tell of the old gods and goddesses.
My goodness, how have I not read this sooner? I liked this story right away! I loved the premise and the journey was full of humour.
I know this might not have been the fastest paced story, but I liked Gen so much that I was content to read about his trip with the magus and his travel companions and I didn't care that it took a while to reveal to Gen (and the reader) just what he was tasked with stealing, and how.
There were some fun twists and turns in the story, and I am so looking forward to carrying on with this series! Definitely recommended!