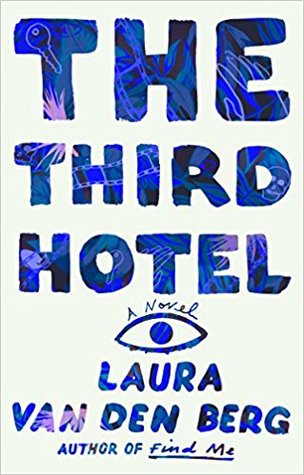 The Third Hotel
By Laura van den Berg Source
Library
Published by
Farrar
,
Straus and Giroux
on August 7, 2018
Rating:

n Havana, Cuba, a widow tries to come to terms with her husband's death―and the truth about their marriage―in Laura van den Berg's surreal, mystifying story of psychological reflection and metaphysical mystery.

Shortly after Clare arrives in Havana, Cuba, to attend the annual Festival of New Latin American Cinema, she finds her husband, Richard, standing outside a museum. He's wearing a white linen suit she's never seen before, and he's supposed to be dead. Grief-stricken and baffled, Clare tails Richard, a horror film scholar, through the newly tourist-filled streets of Havana, clocking his every move. As the distinction between reality and fantasy blurs, Clare finds grounding in memories of her childhood in Florida and of her marriage to Richard, revealing her role in his death and reappearance along the way.

Filled with subtle but striking meditations on grief, marriage, art, misogyny, and the loneliness of travel, The Third Hotel is a singular, propulsive, brilliantly shape-shifting novel from an inventive author at the height of her narrative powers.
This was a strange, absorbing book. I read it fairly quickly, drawn in to Clare's story and whatever was happening to her.
Even though I'm not sure I fully understood this one, it was such an interesting book. I loved the writing, particularly the examinations of horror movies and Clare's experiences moving through the world alone. And I wrestled with my idea of what was going on: was Clare caught in the grips of grief so powerful that she was hallucinating? Or was something that should have been impossible really happening to her?
As some time has passed since I finished this one, I like it more now than I initially did. I keep thinking about it, and bumped up my rating. There are no easy answers in this one, but I quite enjoyed it. Recommended.