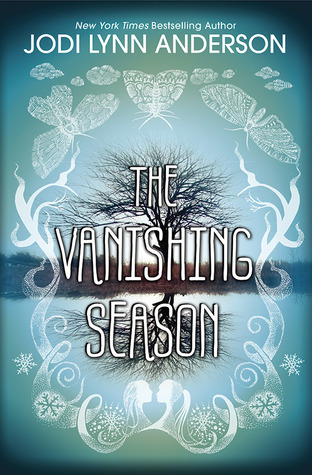 The Vanishing Season
By Jodi Lynn Anderson Source
Received from the publisher via Edelweiss
Published by
HarperTeen
on July 1, 2014
Received from the publisher via Edelweiss in exchange for an honest review. This does not affect my opinion of the book or the content of my review.
Rating:

Cover image and summary from Goodreads:

Girls started vanishing in the fall, and now winter's come to lay a white sheet over the horror. Door County, it seems, is swallowing the young, right into its very dirt. From beneath the house on Water Street, I've watched the danger swell.

The residents know me as the noises in the house at night, the creaking on the stairs. I'm the reflection behind them in the glass, the feeling of fear in the cellar. I'm tied—it seems—to this house, this street, this town.

I'm tied to Maggie and Pauline, though I don't know why. I think it's because death is coming for one of them, or both.

All I know is that the present and the past are piling up, and I am here to dig.I am looking for the things that are buried.

From bestselling author Jodi Lynn Anderson comes a friendship story bound in snow and starlight, a haunting mystery of love, betrayal, redemption, and the moments that we leave behind.
This book was a slow starter to me, but I was intrigued. This was more of a character-driven story than a plot-based one, and in that vein, there isn't much of a supernatural aspect either, despite what the summary might have you believe: the ghost, who is only an occasional narrator, and the mystery of the missing girls are more like background details; girls go missing as a backdrop to what is happening in Maggie's life.
So what's happening in Maggie's life? She and her parents move to Door County, and she meets Pauline and Liam. They quickly become close friends of hers, and there is definitely something between Liam and Pauline, even though they aren't together. Pauline was beautiful and people were drawn to her, but Maggie learned that there was much more to Pauline than just what people saw. Similarly, there's more to Liam than what townspeople think.
There were a lot of things that I liked about this book: the setting; the ghostly narrator who came in and out of the story; the focus on characters; and Maggie herself. I liked Maggie a lot. But this book also made me angry.
Spoiler alert! Skip this paragraph to avoid spoilers. The end of the book totally took me by surprise, and before I had even gotten over the heartbreak Maggie suffered from Pauline and Liam's betrayal (and SERIOUSLY they were all going to try and get along and act like it never happened?? Maggie and Liam said 'I love you' to each other!), I had to deal with the fact that she died. It was so unfair. Maggie didn't do anything wrong; she was the one who got hurt by Pauline and Liam; and they get a happy ending while Maggie wanders around as a ghost? I loved that this story went in a totally different direction than I anticipated, but it made me so upset. Maggie was a much better, stronger person than I am, the way she was able to push aside that hurt.
END
OF
SPOILERS
This was the first book I'd read in a while that made me feel something so strongly and have such an emotional reaction to the story and characters. I feel like I didn't connect with a bunch of my recent reads, but this one hit the mark. I really loved it. Definitely a recommended read.