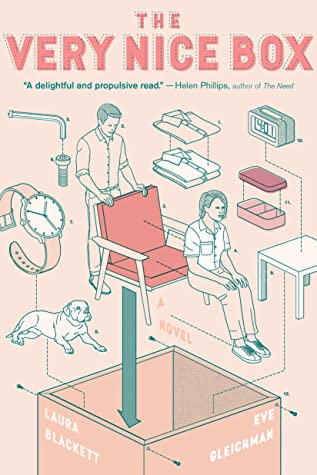 The Very Nice Box
By Laura Blackett, Eve Gleichman Source
Library
Published by
Houghton Mifflin Harcourt
on July 6, 2021
Rating:

For fans of Elinor Oliphant Is Completely Fine and Severance: an offbeat, wryly funny debut novel that follows an eccentric product engineer who works for a hip furniture company where sweeping corporate change lands her under the purview of a startlingly charismatic boss who seems determined to get close to her at all costs . . .

Ava Simon designs storage boxes for STÄDA, a slick Brooklyn-based furniture company. She's hard-working, obsessive, and heartbroken from a tragedy that killed her girlfriend and upended her life. It's been years since she's let anyone in.

But when Ava's new boss—the young and magnetic Mat Putnam—offers Ava a ride home one afternoon, an unlikely relationship blossoms. Ava remembers how rewarding it can be to open up—and, despite her instincts, she becomes enamored. But Mat isn't who he claims to be, and the romance takes a sharp turn.

The Very Nice Box is a funny, suspenseful debut—with a shocking twist. It's at once a send-up of male entitlement and a big-hearted account of grief, friendship, and trust.
This book popped up recently on my radar, and the synopsis was really intriguing. I was excited to get into this when my library hold was ready.
At first, Ava reminded me of Eleanor Oliphant (which makes sense, as that book is mentioned in the blurb). Ava's life seems to be totally focused on her work (and her dog), but as the story progresses, we learn more about her life and the tragedy that has led to her closing herself off. Things start to change though when she meets Mat, her new boss, and starts to open up to him.
I liked this book, and really liked Ava, but I think the synopsis calling it suspenseful and with a shocking twist seems kind of misleading. To me, the story was more about Ava and her life and coming to terms with the tragic events in her past, more than any kind of 'mystery' or twist (and truly, I felt like the 'shocking twist' was telegraphed quite early on and while obviously shocking to Ava, to me as the reader I was just waiting for her to figure out what I already knew).
I also really disliked the romance and watching Ava ignore or disregard some information that winds up being pretty important later on. And looking again at the synopsis, I don't know how much of a send-up of male entitlement this really was…I either didn't get it, or it just wasn't as clever or funny as the synopsis made it out to be. It is likely also a case of misplaced expectations, as the story wasn't really what I expected based on the blurb. This was definitely one of those books that made me feel like it was almost doing something or like I was so close to getting it but didn't quite.
So while I generally liked this, it wasn't the most satisfying read.