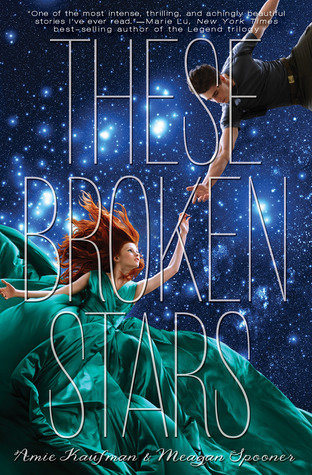 These Broken Stars
By Amie Kaufman and Meagan Spooner Series:
Starbound #1
Source
Received from the publisher via Netgalley
Published by
Disney-Hyperion
on December 10, 2013
Received from the publisher via Netgalley in exchange for an honest review. This does not affect my opinion of the book or the content of my review.
Rating:

Cover image and summary from Goodreads:

It's a night like any other on board the Icarus. Then, catastrophe strikes: the massive luxury spaceliner is yanked out of hyperspace and plummets into the nearest planet. Lilac LaRoux and Tarver Merendsen survive. And they seem to be alone.

Lilac is the daughter of the richest man in the universe. Tarver comes from nothing, a young war hero who learned long ago that girls like Lilac are more trouble than they're worth. But with only each other to rely on, Lilac and Tarver must work together, making a tortuous journey across the eerie, deserted terrain to seek help.

Then, against all odds, Lilac and Tarver find a strange blessing in the tragedy that has thrown them into each other's arms. Without the hope of a future together in their own world, they begin to wonder—would they be better off staying here forever?

Everything changes when they uncover the truth behind the chilling whispers that haunt their every step. Lilac and Tarver may find a way off this planet. But they won't be the same people who landed on it.

--

A timeless love story, THESE BROKEN STARS sets into motion a sweeping science fiction series of companion novels. The Starbound Trilogy: Three worlds. Three love stories. One enemy.
Oh my gosh I loved this book so much. I couldn't wait to read it and once I started, I never wanted to put it down. I've already read a number of reviews describing the early part of the book as Titanic in space, which it totally is, but not for long.
When they crash landed on a mysterious planet, it seemed that Lilac and Tarver could not be more opposite, nor were they each other's ideal companion to survive in the wild. Lilac was snotty, privileged, the kind of person who wouldn't have anything to do with a soldier like Tarver, let alone go on a date with him. Tarver was strong, tough, and somewhat annoyed at having a girl like Lilac to look out for.
Initially, I thought Lilac was too snobby and didn't care much for her. Tarver, on the other hand, I liked right away. As I read, I felt myself falling in love with these characters – even Lilac – and this story. And when their initial antagonism towards each other turns into friendlier and then romantic feelings, I was totally caught up and swooning!
I loved the dual narration, with each chapter alternately narrated by Lilac and Tarver. I felt that they each had a distinct voice, and it allowed me to get in each character's head and watch them fall for each other. It also showed me the secrets they were both carrying, including (initially) hiding the way they felt about each other and secrets about their lives back 'in the real world'.
Between each chapter were snippets of Tarver being interviewed by someone. I was intrigued – who was asking him these questions? Where was he? Did he get off the planet or were they found by someone already there?
The pacing was perfect, with just the right amount of action and quieter moments between Tarver and Lilac. And just when I thought I had figured out where the story was going, it went in a completely different direction, which shocked me. And I loved it! I love love love when a story is absorbing and unpredictable, like this.
Seriously guys, this book is magic. I'm so excited about all of the YA sci-fi coming out, and this one is a must read. I'm so pleased to have had the opportunity to read this, and I'm very much looking forward to the other books in the trilogy!