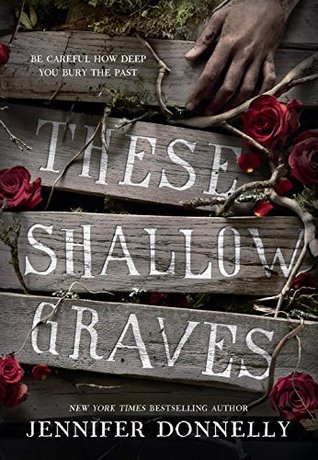 These Shallow Graves
By Jennifer Donnelly Source
Borrowed ARC
Published by
Random House Delacorte
on October 27, 2015
Rating:

Cover image and summary from Goodreads:

Set in gilded age New York, These Shallow Graves follows the story of Josephine Montfort, an American aristocrat. Jo lives a life of old-money ease. Not much is expected of her other than to look good and marry well. But when her father dies due to an accidental gunshot, the gilding on Jo's world starts to tarnish. With the help of a handsome and brash reporter, and a young medical student who moonlights in the city morgue, Jo uncovers the truth behind her father's death and learns that if you're going to bury the past, you'd better bury it deep.
I've read one of Jennifer Donnelly's adult fiction novels, years ago, and recall that I enjoyed it. I was intrigued when I heard that she had a YA historical fiction novel coming out, and was really excited to borrow an ARC from a friend.
I love historical fiction, and I found myself drawn into the novel's setting (New York City, at the end of the 19th century) right away. I loved reading about Jo's life – the clothes, the customs, the carriages – and I also loved the way she wanted to rebel against what was expected of her as a girl from a wealthy family. While everyone around her expected her to marry, she wanted to see the real world and write about it.
As for the story, the mystery itself was not difficult to sort out, but I enjoyed Jo's investigation into her father's death. I liked the romance, too, between Jo and a reporter she meets.
However, the story felt really slow at times, and I never got emotionally invested in the book.
Overall, this was a good read and if you like YA historical fiction, I'd recommend checking out These Shallow Graves.