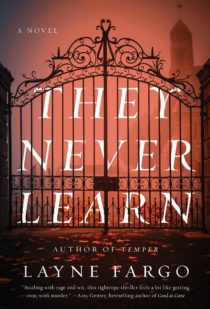 They Never Learn
By Layne Fargo Source
Purchased
Published by
Gallery/Scout Press
on October 13, 2020
Rating:

Scarlett Clark is an exceptional English professor. But she's even better at getting away with murder.

Every year, she searches for the worst man at Gorman University and plots his well-deserved demise. Thanks to her meticulous planning, she's avoided drawing attention to herself—but as she's preparing for her biggest kill yet, the school starts probing into the growing body count on campus. Determined to keep her enemies close, Scarlett insinuates herself into the investigation and charms the woman in charge, Dr. Mina Pierce. Everything's going according to her master plan…until she loses control with her latest victim, putting her secret life at risk of exposure.

Meanwhile, Gorman student Carly Schiller is just trying to survive her freshman year. Finally free of her emotionally abusive father, all Carly wants is to focus on her studies and fade into the background. Her new roommate has other ideas. Allison Hadley is cool and confident—everything Carly wishes she could be—and the two girls quickly form an intense friendship. So when Allison is sexually assaulted at a party, Carly becomes obsessed with making the attacker pay...and turning her fantasies about revenge into a reality.
I was super excited to read this book! This was a fast-paced, twisty story about vengeance and revenge, and the ending was quite satisfying. 
This one kept me guessing about certain things right up until the end, and I loved the way the tension ratcheted up throughout the story. I really enjoyed this one.
If you're looking for a dark and entertaining story to accompany some of the anger you may be feeling at the world, They Never Learn might be just what you're looking for!