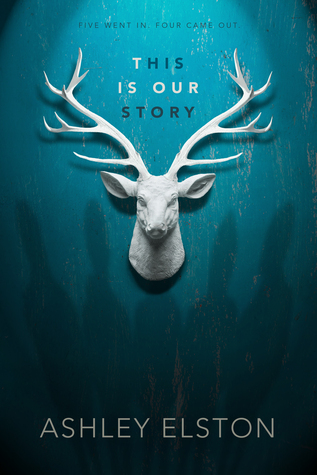 This Is Our Story
By Ashley Elston Source
Purchased
Published by
Disney-Hyperion
on November 15, 2016
Rating:

Cover image and synopsis from Goodreads:

No one knows what happened that morning at River Point. Five boys went hunting. Four came back. The boys won't say who fired the shot that killed their friend; the evidence shows it could have been any one of them.

Kate Marino's senior year internship at the district attorney's office isn't exactly glamorous—more like an excuse to leave school early that looks good on college applications. Then the DA hands her boss, Mr. Stone, the biggest case her small town of Belle Terre has ever seen. The River Point Boys are all anyone can talk about. Despite their damning toxicology reports the morning of the accident, the DA wants the boys' case swept under the rug. He owes his political office to their powerful families.

Kate won't let that happen. Digging up secrets without revealing her own is a dangerous line to walk; Kate has her own reasons for seeking justice for Grant. As she investigates with Stone, the aging prosecutor relying on Kate to see and hear what he cannot, she realizes that nothing about the case—or the boys—is what it seems. Grant wasn't who she thought he was, and neither is Stone's prime suspect. As Kate gets dangerously close to the truth, it becomes clear that the early morning accident might not have been an accident at all—and if Kate doesn't uncover the true killer, more than one life could be on the line…including her own.
I think I was drawn to this book because I really liked that cover. It was striking. And we know that I love a good mystery, so I decided to check this one out!
This was a fairly interesting mystery, with a couple of good twists but nothing too shocking. I liked that the start of each chapter was narrated by one of the River Point Boys – but it isn't revealed to the reader which one – who clearly knew more than he was letting on throughout the story.
I also liked that Kate worked in the prosecutor's office. The legal side of the investigation was definitely something that grabbed my interest.
This was definitely a fun read, and even though I didn't love it or get super emotionally invested in it, I liked it.