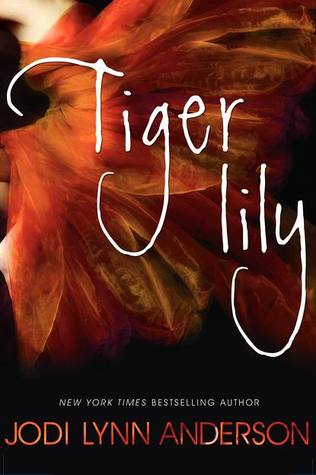 Tiger Lily
By Jodi Lynn Anderson Source
Borrowed
Published by
HarperCollins Children's Books
on July 3, 2012
Rating:

Cover image and summary from Goodreads:

Before Peter Pan belonged to Wendy, he belonged to the girl with the crow feather in her hair. . . .

Fifteen-year-old Tiger Lily doesn't believe in love stories or happy endings. Then she meets the alluring teenage Peter Pan in the forbidden woods of Neverland and immediately falls under his spell.

Peter is unlike anyone she's ever known. Impetuous and brave, he both scares and enthralls her. As the leader of the Lost Boys, the most fearsome of Neverland's inhabitants, Peter is an unthinkable match for Tiger Lily. Soon, she is risking everything—her family, her future—to be with him. When she is faced with marriage to a terrible man in her own tribe, she must choose between the life she's always known and running away to an uncertain future with Peter.

With enemies threatening to tear them apart, the lovers seem doomed. But it's the arrival of Wendy Darling, an English girl who's everything Tiger Lily is not, that leads Tiger Lily to discover that the most dangerous enemies can live inside even the most loyal and loving heart.

From the New York Times bestselling author of Peaches comes a magical and bewitching story of the romance between a fearless heroine and the boy who wouldn't grow up.
I don't know if I would have read this book had it not been a Sisterhood of the Travelling Book Club pick. I was curious to see how it compared to the Peter Pan story I only vaguely recall from my childhood, and I really enjoyed Jodi Lynn Anderson's The Vanishing Season, so I went into this book cautiously.
I enjoyed finding connections between Tiger Lily and the Peter Pan story I remembered, but parts of the book felt uneventful to me. Sometimes I appreciate a book like that – with a focus more on character than on plot – but I struggled with this book at times.
It was all very interesting, but in some ways I wanted more: I was disappointed not to read more about Hook and the pirates. I also wanted to read more about Wendy, but at the same time, I recognize that this is Tiger Lily's story.
I thought Tiger Lily was a great, complex character. I felt for her – there was so much tragedy in this story that I couldn't help but root for her and hope for the best, even knowing from the start that she didn't have a fairy tale happy ending. I also loved that the story was narrated by Tinker Bell!
Perhaps the biggest issue for me was Peter Pan himself. Even after finishing the book, he felt like a mystery. I had hoped to feel like I'd learned some more about him than I did. And he was cruel and hurtful, which bothered me and I couldn't quite get past it.
One thing I loved about Tiger Lily was the writing. Jodi Lynn Anderson is very talented, and I'll definitely be reading whatever she writes in the future!
I'm torn on how to really rate this book, because I'm still not sure how I feel about it. There's a lot that I wanted to read about more, but I also felt as though I struggled to get through the book at times. I loved the writing, but I didn't  feel an emotional connection to many of the characters. So many of them seemed distant.
I would definitely recommend this book for a new perspective on what may be a familiar story, but I'm still sorting out my feelings on this one!