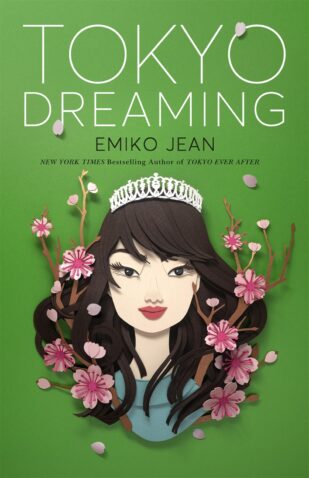 Tokyo Dreaming
By Emiko Jean Series:
Tokyo Ever After #2
Source
Received from the publisher
Published by
Flatiron Books
on May 31, 2022
Received from the publisher in exchange for an honest review. This does not affect my opinion of the book or the content of my review.
Rating:

When Japanese-American Izumi Tanaka learned her father was the Crown Prince of Japan, she became a princess overnight. Now, she's overcome conniving cousins, salacious press, and an imperial scandal to finally find a place she belongs. She has a perfect bodyguard turned boyfriend. Her stinky dog, Tamagotchi, is living with her in Tokyo. Her parents have even rekindled their college romance and are engaged. A royal wedding is on the horizon! Izumi's life is a Tokyo dream come true.

Only...

Her parents' engagement hits a brick wall. The Imperial Household Council refuses to approve the marriage citing concerns about Izumi and her mother's lack of pedigree. And on top of it all, her bodyguard turned boyfriend makes a shocking decision about their relationship. At the threat of everything falling apart, Izumi vows to do whatever it takes to help win over the council. Which means upping her newly acquired princess game.

But at what cost? Izumi will do anything to help her parents achieve their happily ever after, but what if playing the perfect princess means sacrificing her own? Will she find a way to forge her own path and follow her heart?
I loved the first book in this duology, Tokyo Ever After, and I was so excited to receive an e-ARC of this sequel!
I enjoyed this book so much. Getting to see Izumi a bit more accustomed to her life as a princess was fun, but as her parents' got closer, it was her mother who seemed to be put through the royal wringer, and Izumi's perspective on it was so interesting, having just gone through it herself, but really wanting her parents to stay together, no matter how difficult it seemed to be for her mother to adjust to a new life.
I was fully prepared to detest the love triangle in this story, but I wound up enjoying how each partner brought out a different side of Izumi, and I understood her struggle to figure out where her feelings were leading her.
But my favourite thing about this story was her relationship with her twins, who I couldn't stand in book one. I love when an author shows me more of a character and changes my opinion of them.
This was a sweet, fun, delightful read, and a fantastic follow up to Tokyo Ever After!