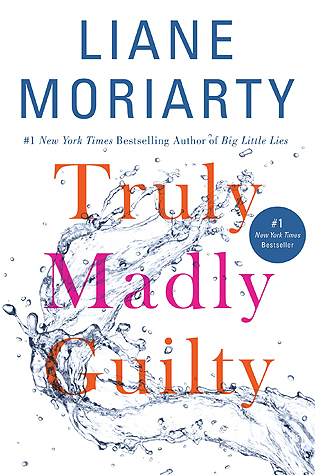 Truly Madly Guilty
By Liane Moriarty Source
Purchased
Published by
Flatiron Books
on July 26, 2016
Rating:

Cover image and synopsis from Goodreads:

Six responsible adults. Three cute kids. One small dog. It's just a normal weekend. What could possibly go wrong?

Sam and Clementine have a wonderful, albeit, busy life: they have two little girls, Sam has just started a new dream job, and Clementine, a cellist, is busy preparing for the audition of a lifetime. If there's anything they can count on, it's each other.

Clementine and Erika are each other's oldest friends. A single look between them can convey an entire conversation. But theirs is a complicated relationship, so when Erika mentions a last minute invitation to a barbecue with her neighbors, Tiffany and Vid, Clementine and Sam don't hesitate. Having Tiffany and Vid's larger than life personalities there will be a welcome respite.

Two months later, it won't stop raining, and Clementine and Sam can't stop asking themselves the question: What if we hadn't gone?

In Truly Madly Guilty, Liane Moriarty takes on the foundations of our lives: marriage, sex, parenthood, and friendship. She shows how guilt can expose the fault lines in the most seemingly strong relationships, how what we don't say can be more powerful than what we do, and how sometimes it is the most innocent of moments that can do the greatest harm.
I read and really enjoyed Big Little Lies last year, and I watched (and loved) the HBO adaptation not too long ago, which had me feeling like reading another of Liane Moriarty's books. I already had Truly Madly Guilty on my shelf, so I decided to pick it up.
This was a really quick and engrossing read. I just wanted to know what happened the night of the barbecue! But I'm not sure if making every single thing about that night so mysterious, and drawing out every little reveal, worked for me. Yes, some of the reveals were pretty major (and there was one that I thought was kind of heartbreaking), but not everything that happened that night seemed worthy of being cloaked in mystery. Some of it also relied so strongly on coincidence that it was hard to buy into at times.
As for the characters, the dynamics between the different couples were pretty intriguing, and I thought Erika and Oliver were the most interesting.
On to my next Liane Moriarty book!