By Jacqueline Green
Source: Library
My Rating: 3 / 5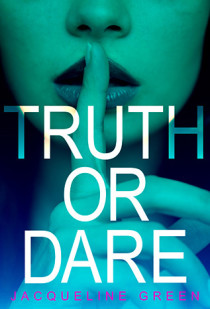 When I first heard of this book, I immediately thought of Sara Shepard's Pretty Little Liars series, which we all know I love, so I was eager to get my hands on a copy.
Here is the Goodreads summary:
When a simple round of truth or dare spins out of control, three girls find it's no longer a party game. It's do or die.

It all started on a whim: the game was a way for Tenley Reed to reclaim her popularity, a chance for perfect Caitlin "Angel" Thomas to prove she's more than her Harvard application. Loner Sydney Morgan wasn't even there; she was hiding behind her camera like usual. But when all three start receiving mysterious dares long after the party has ended, they're forced to play along—or risk exposing their darkest secrets.

How far will Tenley, Caitlin and Sydney go to keep the truth from surfacing? And who's behind this twisted game?

Set against the backdrop of Echo Bay, an isolated beach town haunted by misfortune, Truth or Dare is a highly charged debut that will keep readers in suspense from beginning to end.
I really wanted to love this book because I liked the premise. It sounded fun and twisty, but the biggest issue for me was that I didn't connect to any of the characters. Tenley, Sydney, and Caitlin were girls who, despite their different upbringings and life experiences, seemed very interchangeable to me. I think that my inability to connect with them meant that I didn't get a sense of the danger they were in, so I read because I was curious to know what was going to happen next – rather than because I needed to know. You know?
I also didn't see why this book needs to be part of a series – why can't it be a stand alone? Other than a few things the author left unresolved or hinted at right at the end, this didn't seem to have a story that would carry over into other books. Perhaps that's just my frustration at feeling like everything I read in the last year or two has turned out to be part of a series. It would be nice to read a book whose story could stand on its own rather than being part of a larger series.
However, part of what I liked in this book was that the person sending the dares to the girls made good on the threats when the girls didn't comply. I also liked part of the twist at the end (I'll explain more in a spoiler-y paragraph below), even if I did end up guessing the culprit's identity fairly early on.
I loved the setting, too. I'm a sucker for stories set in small towns, and I got a very strong sense of Echo Bay, with its 'Lost Girls' obsession, fall festivities, and local establishments.
There were a few things that were mentioned throughout the book that I was really interested in reading about, but they weren't ever explored as much as I wanted them to be (e.g. Caitlin's kidnapping, and her dreams and suspicions about the kidnapper's identity; Tenley's gymnastics career and her father's death). I have to wonder if they'll be addressed more in-depth in the second book.
SPOILER ALERT – NEXT TWO PARAGRAPHS ARE SPOILER HEAVY. SKIP THEM IF YOU DON'T WANT TO KNOW WHAT HAPPENS!

What really shocked me was that Caitlin died. I was pretty surprised that in a book that felt as light as this one, the author was not afraid to kill one of the main characters. I liked that it upped the stakes of the story, but was frustrated that it happened after Caitlin seemed to have realized something about her kidnapper but didn't have the chance to share what she knew.
Part of what bothered me when Tricia was doing her villain speech was that Tenley and Caitlin didn't seem to understand the effect of their behaviour on Tricia. They basically called her crazy, like her aunt, and told her that they were just kids playing a game. There didn't seem to be any element of remorse or realization that they had been cruel to Tricia, or that they had learned anything from all of this and would go on to become better people. That scene had a lot of potential but it didn't really go anywhere.
END OF SPOILERS.
Overall, this book was moderately entertaining and kind of mindlessly fun – pretty perfect for an end-of-summer read – but I wish it had gone deeper with some story elements. I will probably be reading the sequel, and recommend this if you're looking for a light summer read with some mystery.