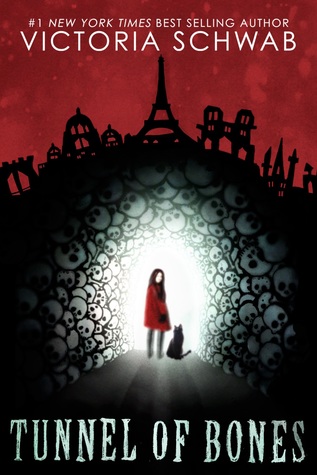 Tunnel of Bones
By Victoria Schwab Series:
Cassidy Blake #2
Source
Purchased
Published by
Scholastic Press
on September 3, 2019
Rating:

Trouble is haunting Cassidy Blake . . . even more than usual.

She (plus her ghost best friend, Jacob, of course) are in Paris, where Cass's parents are filming their TV show about the world's most haunted cities. Sure, it's fun eating croissants and seeing the Eiffel Tower, but there's true ghostly danger lurking beneath Paris, in the creepy underground Catacombs.

When Cass accidentally awakens a frighteningly strong spirit, she must rely on her still-growing skills as a ghosthunter -- and turn to friends both old and new to help her unravel a mystery. But time is running out, and the spirit is only growing stronger.

And if Cass fails, the force she's unleashed could haunt the city forever.
I love this series! Victoria (V.E.) Schwab is my favourite author, and I loved the first book in this series, City of Ghosts, when I read it last year.
I'm happy to say that the second book in this middle grade series was just as good as the first! I love ghost stories, and Tunnel of Bones was fun, spooky, and expanded on Cass and Jacob's friendship. It was so good, and I read it in a couple of days, not wanting to put it down.
The ending was such a tantalizing hint at what's to come in this series. I already can't wait to read book three!