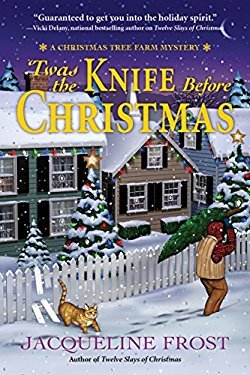 'Twas the Knife Before Christmas
By Jacqueline Frost Series:
A Christmas Tree Farm Mystery #2
Source
Received from the publisher
Published by
Crooked Lane Books
on November 13, 2018
Received from the publisher in exchange for an honest review. This does not affect my opinion of the book or the content of my review.
Rating:

When a body turns up in the dumpster behind Caroline's Cupcakes, Holly White is horrified to learn her best friend Caroline is the main suspect. Everyone in town, including Mistletoe, Maine's sheriff, saw Caroline fighting with the victim on the night of his death. Worse, Caroline's fingerprints are all over the murder weapon, a custom-designed marble rolling pin.

Now, just ten days before Christmas, Holly's up to her jingle bells in holiday shenanigans and in desperate need of a miracle. Juggling extra shifts at her family's Christmas tree farm and making enough gingerbread jewelry to satisfy the crowd is already more than she can handle—and now she has to find time to clear her best friend of murder. Add in her budding relationship with the sheriff, and run-ins with an ex-fiancé looking to make amends, and Holly's ready to fly south until springtime.

But her Sherpa-lined mittens come off when Caroline is taken into custody. Can Holly wrap up the case in time for Christmas…even after she gains the true killer's attention? Find out in 'Twas the Knife Before Christmas, Jacqueline Frost's second pine-scented Christmas Tree Farm mystery.
I will admit I was so excited to receive an advance copy of this book! It was the the middle of summer when I read it, in the midst of a heatwave, and so reading about Christmastime, snow, and continuing a series that I had already enjoyed meant that I had some high expectations for this book and I was not disappointed.
The murder mystery starts quickly, with Holly and her friends discovering a body in a giant candy bowl during the town's Christmas celebrations. The body belongs to Derek Waggoner, a man that her friend, Caroline, had recently gone on a date with and publicly rebuffed after he got handsy with her. With the murder victim found stabbed with one of Caroline's personalized knives from her cupcake shop, Caroline quickly becomes the prime suspect.
As Holly investigates the murder, she quickly becomes the prime target for the killer as they leave Christmas-themed warnings for Holly around town. And as the local police chief (and her sometimes boyfriend) arrests Caroline for the murder, Holly really feels the pressure to solve the crime!
I found the first book in the series to be a pleasant surprise — it was a brand new series with an author I wasn't familiar with. I loved the setting of Holly's family's Christmas tree farm — the events they set up for the holidays sounded like so much fun (decorating gingerbread houses with blindfolds on). I'm happy that this second book also takes place at Christmas time, but also includes an expansion to the Christmas tree farm, as Holly's family is building a small lodge for guests to stay at (I really like being in my own home for Christmas, but I don't think I would mind staying at a lodge for the holidays!).
Holly's relationship with Evan, the local sheriff, seems to have cooled off since the last book, leaving Holly feeling confused and awkward whenever she sees him. Thankfully, the mystery surrounding this tension is resolved quickly and we get to meet Evan's sister, who seems really fun and adds another character whose story will likely continue in the next book. I'm also happy that Evan's sister and Holly's friend Ray seemed to hit it off — in the previous book Ray come off as a potential romantic interest and I really do not care for love triangles, so I'm happy that he has a love interest and that whole potential storyline can be resolved.
The murder mystery was a good one — I wasn't able to guess who the killer was until the end, even though Holly seemed to (mostly mentally) accuse almost every one she met. Holly does need to learn when to stop and when to ask for help, though. I feel like she would be scared and injured and pursued by a killer but still think that she could do it on her own. Sometimes I think she's a bit too headstrong, but thankfully that doesn't come up much in the book. I really did like when she and Caroline would team up to investigate, or when she would work with Evan's sister — teams of women in cozy mysteries are always great and almost make me wish I was out investigating with my sisters (although I really don't like the idea of being in danger, so maybe it's not a good idea. I'll stick to just reading about it from the comfort of my home).
I will say the only real downside to this book is having to wait another year for the next book in the series to come out.