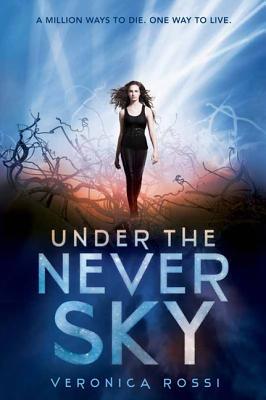 Under the Never Sky
By Veronica Rossi Series:
Under the Never Sky #1
Source
Purchased
Published by
Atom
on February 7, 2012
Rating:

Cover image and summary from Goodreads:

Since she'd been on the outside, she'd survived an Aether storm, she'd had a knife held to her throat, and she'd seen men murdered.

This was worse.

Exiled from her home, the enclosed city of Reverie, Aria knows her chances of surviving in the outer wasteland — known as The Death Shop — are slim. If the cannibals don't get her, the violent energy storms will. Then Aria meets an Outsider named Perry. He's wild — a savage — and her only hope of staying alive.

A hunter for his tribe in a merciless landscape, Perry views Aria as sheltered and fragile—everything he would expect from a Dweller. But he needs Aria's help too; she alone holds the key to his redemption. Opposites in nearly every way, Aria and Perry must come together to survive. Their unlikely alliance forges a bond that will determine the fate of all who live under the never sky.
I don't know what took me so darn long to read this book, because I love it and wish I'd read it sooner! I loved reading about the contrast between Aria's world and Perry's world. They came from such different places but they each had their customs and, of course, both Aria and Perry had their struggles.
I loved the bickering and animosity between Aria and Perry at first, which of course turned to romance. It reminded me of Lilac and Tarver from These Broken Stars, a book that I totally loved. I also liked the action scenes in the book, and the secondary characters (Roar!!, Cinder, Marron) were great.
There was betrayal, violence, romance, mystery – basically this book has it all! I can't wait to get my hands on the sequel and see what happens next!