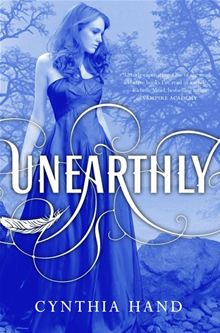 Unearthly
By Cynthia Hand Series:
Unearthly #1
Source
Library
Published by
HarperTeen
on January 4, 2011
Rating:

In the beginning, there's a boy standing in the trees . . . .

Clara Gardner has recently learned that she's part angel. Having angel blood run through her veins not only makes her smarter, stronger, and faster than humans (a word, she realizes, that no longer applies to her), but it means she has a purpose, something she was put on this earth to do. Figuring out what that is, though, isn't easy.

Her visions of a raging forest fire and an alluring stranger lead her to a new school in a new town. When she meets Christian, who turns out to be the boy of her dreams (literally), everything seems to fall into place—and out of place at the same time. Because there's another guy, Tucker, who appeals to Clara's less angelic side.

As Clara tries to find her way in a world she no longer understands, she encounters unseen dangers and choices she never thought she'd have to make—between honesty and deceit, love and duty, good and evil. When the fire from her vision finally ignites, will Clara be ready to face her destiny?
I have only recently learned of this series, as the final book came out last month, and I was very intrigued by a YA angel series.
I was really excited to read this book because I don't think I've read many (any?) books about angels. I loved learning about Clara's abilities, the differences between full angels and the half-bloods (like Clara's mom) and quarter-bloods (like Clara). As the reader, I learned much of that information at the same time as Clara, because her mom was very reluctant to tell her much.
As more information was revealed to Clara throughout the story, she learns that there may be a war between angels and the Black Wings – fallen angels whose wings have turned black. There's an encounter with a Black Wing a couple of times in the novel, and it was really creepy. The Black Wings are scary but a really cool idea, and I'm sure there will be more of them in the rest of the series.
I loved the characters in this book. Clara was so easy to like because she was still trying to figure out her purpose and get a handle on being an angel, and it was fun at times to see her working on her abilities (learning to fly, for example). Her mother was clearly trying to protect her by keeping information from Clara about angels, but I definitely felt Clara's frustration at feeling like she was being kept in the dark.
Clara's younger brother, Jeffrey, is also a quarter angel, and has an easier time fitting in at school as the new kid than Clara. I couldn't shake this feeling, especially by the end of the book, that he's up to something and that I will learn more about that in the next book. I'm very interested in learning more about Jeffrey.
I also liked Wendy, Clara's close friend. She's a normal, happy girl and I was glad that Clara found a new friend. However, Clara makes another friend, Angela, and for some reason I found myself very suspicious of her.
View Spoiler »
Angela is also part angel, it turns out, and I felt that she was constantly digging for information from Clara or her mother, which makes me suspicious and I think that Clara reveals too much to Angela. I don't trust her! « Hide Spoiler
So on to the boys. There is, of course, a love triangle in this book. Normally I don't care much for love triangles. This one, though, is more complicated than I thought it would be at first. Tucker is Wendy's twin brother, and when he and Clara expressed a mutual dislike of each other pretty much from the moment they met, I knew they'd end up falling for each other! I love Tucker. He's funny, smart, down to earth, and just all around nice. He's the kind of guy that everyone likes, including me! Then there's Christian. He's the entire reason Clara's family moved from California – he is the guy she sees in her vision, so saving him must be her purpose, right? He is one of the most popular guys in school, the guy all the girls have a crush on, and of course dating the resident mean girl. He came across as too perfect, too aloof.
View Spoiler »
By the time he left Clara at the prom to take Kay, his ex-girlfriend home, I was so over him. But then, at the end, learning that he's an angel (or at least part angel) and that he thought his purpose was to rescue Clara really complicated things. Now I'm interested in Christian – I want to know more about him, find out what he knows about angels, his abilities, and whether he knows about Black Wings. « Hide Spoiler
I hope Clara ends up with Tucker, but I now find myself more interested in this triangle – for now, Clara's heart seems to belong to Tucker, but there is definitely something between Clara and Christian, too.
I will definitely be reading the rest of this series. I've put a hold on the next book, Hallowed, and can't wait to read it. I definitely recommend this for fans of YA, supernatural stories, especially if you like a good love triangle thrown in.