Unforgotten
By Jessica Brody
Source: ARC received from publisher, MacMillan, via Raincoast Books
Publication Date: February 25, 2014
My Rating: 4 / 5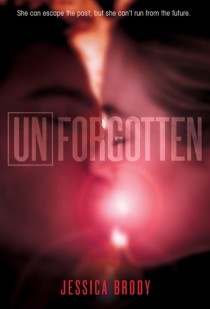 From the Goodreads summary:
Some memories are better left forgotten…

After a daring escape from the scientists at Diotech who created her, Seraphina believes she is finally safe from the horrors of her past. But new threats await Sera and her boyfriend, Zen, at every turn as Zen falls prey to a mysterious illness and Sera's extraordinary abilities make it more and more difficult to stay hidden. Meanwhile, Diotech has developed a dangerous new weapon designed to apprehend her. A weapon that even Sera will be powerless to stop. Her only hope of saving Zen's life and defeating the company that made her is a secret buried deep within her mind. A secret that Diotech will kill to protect. And it won't stay forgotten for long.

Packed with mystery, suspense, and romance, this riveting second installment of Jessica Brody's Unremembered trilogy delivers more heart-pounding action as loyalties are tested, love becomes a weapon, and no one's memories are safe.
This is the sequel to Unremembered, which I read and enjoyed last year. Spoiler alert!
I loved the way this book began, with Sera and Zen in 1609. Total historical fiction / sci fi combo! I loved seeing Zen and Sera living in that era, but of course I knew it couldn't last. After a truly horrifying scene, Sera wakes up in a completely different time and place, and we're introduced to Kaelen, who is just like Sera in many ways.
I loved reading about the way Kaelen fit into the story, initially seen as an enemy but over time potentially becomes an ally. AND! I was so happy to see Cody back in the story, albeit in a totally unexpected way.
We learn a lot about Diotech and the company's origin and purpose throughout this story, and it seems that the author is definitely setting up for something big to be explored in book three, which I can't wait to read.
As usual, I loved the time travel stuff explored in this book.
Zen, who I thought was the weakest part of the story in Unremembered, is actually absent for most of the story, since he's quite ill and Sera spends a lot of time looking for a cure. And while I totally normally don't go in for anything remotely resembling a love triangle, I found Kaelen to be a very intriguing character, and I really enjoyed the way his relationship to Sera was explored.
Overall, I think this was a great sequel – I think I actually liked it better than Unremembered – and I can't wait to read the next book to see how the story ends! Definitely a recommended read.
Related Posts