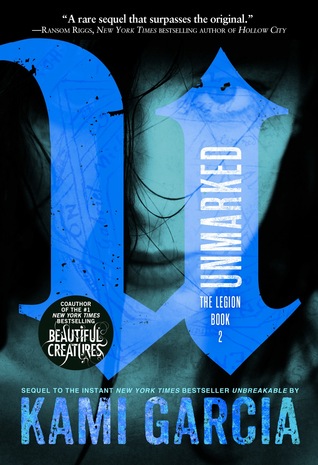 Unmarked
By Kami Garcia Series:
The Legion #2
Source
Received from the publisher at BEA
Published by
Little, Brown Books for Young Readers
on October 7, 2014
Received from the publisher at BEA in exchange for an honest review. This does not affect my opinion of the book or the content of my review.
Rating:

Cover image and summary from Goodreads:

The heart-pounding sequel to the instant New York Times bestseller, Unbreakable, by New York Times bestselling Beautiful Creatures co-author Kami Garcia.

He is here... and he could be anyone.

Kennedy Waters lives in a world where vengeance spirits kill, ghosts keep secrets, and a demon walks among us–a demon she accidentally set free.

Now Kennedy and the other Legion members–Alara, Priest, Lukas, and Jared–have to hunt him down. As they learn more about the history of the Legion and the Illuminati, Kennedy realizes that the greatest mystery of all does not belong to any secret order, but to her own family. With the clock ticking and the life of someone she loves hanging in the balance, Kennedy has to ask the question she fears most: what is it about her past that has left her Unmarked?
Spoiler alert if you haven't read the first book, Unbreakable (I feel like that should go without saying, but I'm saying it, so…)
I was so excited to read this book! I wasn't expecting this to be at BEA so when I heard that Little, Brown was doing this as a galley drop, this book jumped to the top of my MUST HAVE list! I sat in a very long line for a very long time to get this book and it was soooo worth it.
Unbreakable is one my favourite reads of 2014 already. Reading about these characters again in Unmarked felt like meeting back up with old friends. Kennedy, Jared, Lukas, Priest, and Alara are all awesome. I learned more about each of them in this book, which was great. And I loved the addition of characters like Elle (Kennedy's best friend), and others who I won't name because of spoilers.
As in the previous book, this one certainly had its creepy moments. I just loved the parts with ghost and demon hunting! These scenes were full of action, excitement, and tension, and were some of the best parts of the book, for me.
And I love where Kami Garcia took this story. The stakes kept getting higher, and more secrets about Kennedy, her family, and the Legion were revealed. It's all so interesting and I didn't see much of it coming. I definitely can't wait to see where it goes next!
This was even more fun to read than Unbreakable! If you enjoyed that book, you must read this one!